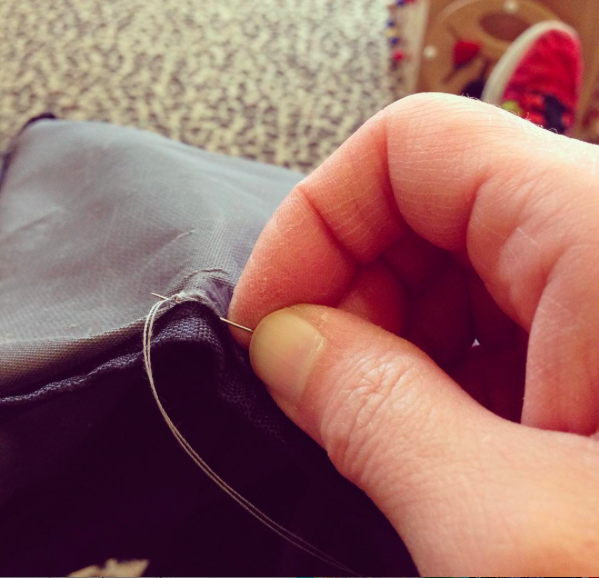 My son had a dental appointment yesterday, so I brought along a mending project. (A duffel bag with split seams.) I could easily have spent the time leafing through magazines or goofing around on my smart phone, but instead I chose to be deliberate with this chunk of downtime. I was able to complete about half of the job, but kept with the momentum and completed the project as soon as I got home. The dentist gifted my son with a hardback copy of Dr. Seuss' Oh, The Places You'll Go as this was his very last visit to the pediatric clinic. Which to everyone's surprise, prompted me to burst into tears. Sorry, kid.
I'd cooked up a batch of navy beans on Tuesday, which I turned into a pot of white bean rosemary soup for last night's dinner. Simple and yummy, we'll have leftovers for days.
Today is my stepfather's 66th birthday, and we'll go to a nice restaurant to celebrate the occasion. Normally we'd have them over for dinner, but my day is busy with scheduled requirements. (Annual evaluation at work and an event at the local university honoring my father for his 50 years of teaching!) It's nice to have a meal out once in a while.
I did treat my son to a rare restaurant meal, as I had some Living Social credit from when I wrote about that amazing Costco deal. I was able to buy a $20 restaurant voucher for only $13, which was actually free to me. Our bill came to $19.98, so no money out of pocket, although I did leave a $5 tip.
I sat down with my younger son and taught him how to file his federal and state taxes. We used the Absolute Zero version through Turbotax, as his taxes were pretty straightforward. (Both the federal and state taxes are free to file of you're using the 1040EZ or A forms!) I feel confident he'll be able to independently file his own taxes from here on out.
Now your turn. What frugal things have you been up to?
Katy Wolk-Stanley
"Use it up, wear it out, make it do or do without."
Click 
HERE
 to follow The Non-Consumer Advocate on 
Twitter
.
Click 
HERE
 to follow The Non-Consumer Advocate on 
Instagram.
Click 
HERE
 to join The Non-Consumer Advocate 
Facebook
 group.
Click 
HERE
 to follow The Non-Consumer Advocate on 
Pinterest.