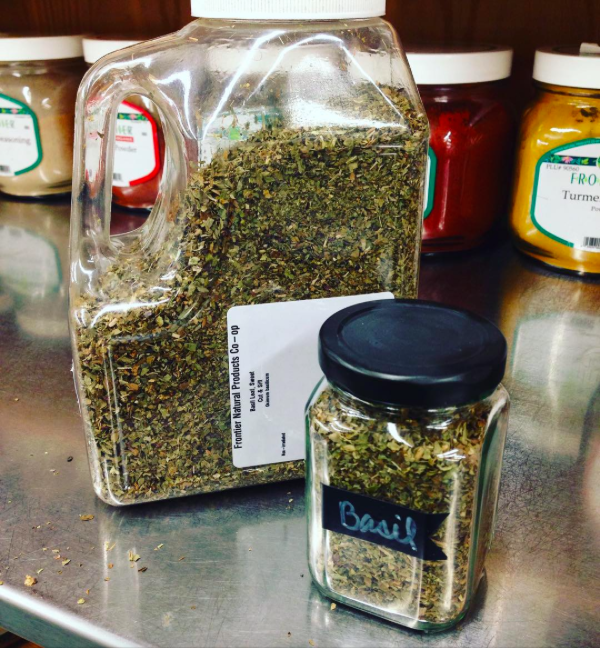 I stopped at Fred Meyer on my way home from dropping my son at school. I was able to pick up two gallons of milks for $1.29 apiece and fill a jar with bulk basil for 55¢. Bulk spices are an amazing bargain, and it always gives me a spicy thrill!
I pulled all the food and spices from my kitchen cupboards to consolidate and organize. I was able to free up a couple dozen spice-size jars that functioned for no other reason than to overcrowd my shelves. I scrubbed them up and then posted the whole shebang on my local Buy Nothing group. They're currently on the porch and waiting to go to their new home. My cupboards are now all organized and decidedly uncrowded. (I may or may not be keeping the doors open just so I can gaze at the pretty contents.)
The person who was supposed to pick up my neighbor's tire chains flaked out, so I deleted the dormant Buy Nothing post and put together a Craigslist posting instead. I listed them for $15 and will treat to my neighbor to a coffee date if I can find a buyer. They've only been used once and cost $64 new, so I'm confident that I can offload them.
I returned a library book right on the brink of facing a fine. I'm kind of a hermit this time of year, so any successful outside errand is a bit of an accomplishment. The constant rain and dampness? It gets old, people. Real old.
I cancelled the class I was supposed to take at work today and rescheduled it for next week. It overcomplicated my day but the new class will be within the same pay period. We're hosting a Japanese exchange student next week and I deliberately didn't sign up for any shifts while he's here. I'll have a very light paycheck as a consequence, but I want to make sure all goes smoothly while he's here. (I'll see about working a couple hours of continuing education after my class as long as I'm already on the clock.) There is one free pizza party for the host families, plus there's a small stipend to offset the cost of hosting. I know we can show Kentaro a good time without breaking the budget.
Now your turn. What frugal things have you been up to?
Katy Wolk-Stanley
"Use it up, wear it out, make it do or do without."
Click 
HERE
 to follow The Non-Consumer Advocate on 
Twitter
.
Click 
HERE
 to follow The Non-Consumer Advocate on 
Instagram.
Click 
HERE
 to join The Non-Consumer Advocate 
Facebook
 group.
Click 
HERE
 to follow The Non-Consumer Advocate on 
Pinterest.