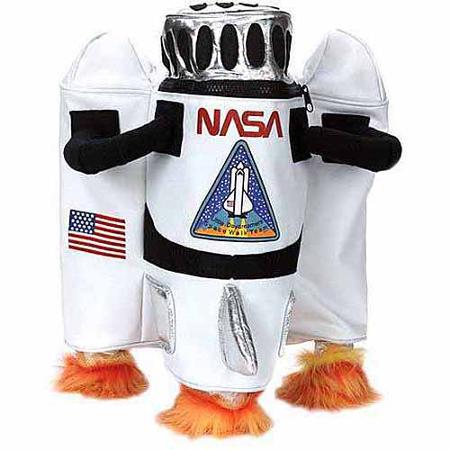 I took the bones from a batch of oven fried chicken drumsticks and cooked them up in the crock pot for broth. I added chopped onions, carrots, peas and broken lasagna noodles for a hearty yet frugal soup. There was one uneaten drumstick, which provided enough chicken for the entire batch.
I gave away a 2016 engagement calendar that my son brought home from work, yet didn't actually want. I posted it on my local Buy Nothing group, which helped it to find usefulness again. I ended up giving my neighbor's tire chains to my sister who was sure she could either use them herself or give them to a friend, and I rounded up a bag of random stuff from around the house to donate to Goodwill.
I mopped my kitchen floor by pushing an old wet towel around on the floor. I know it's not a million dollar idea like the Spin Mop, but it works better than anything else in my experience.
I relisted an adorable child's NASA backpack on Craigslist that I'd previously been unsuccessfully in selling. (I lowered the price which should help.) It really is an awesome item, as it functions both for dress-ups and as a functional backpack. I'm surprised that this Goodwill goodie didn't sell before, as my sons would have gone crazy for this backpack!
I didn't buy a Lear Jet.
Now your turn. What frugal things have you been up to?
Katy Wolk-Stanley
"Use it up, wear it out, make it do or do without."