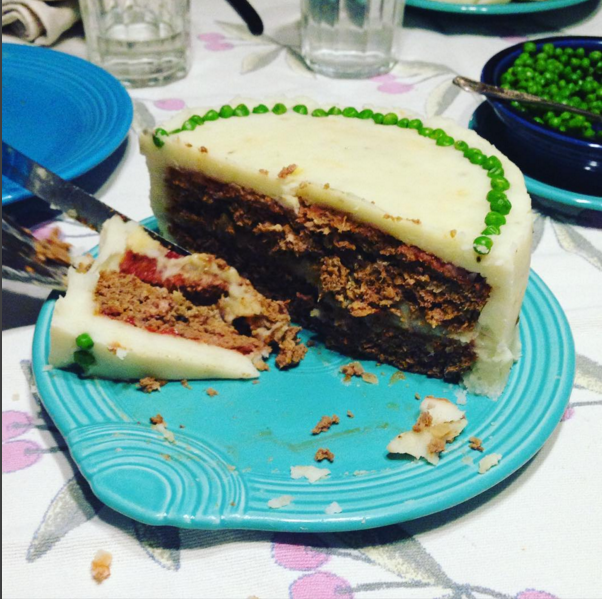 My husband was given Portland Thorns (women's MLS) soccer tickets, but we were unable to use them which was a huge bummer since they were in a fancy suite. However, we were able to pass them along to a friend, who then thanked us with a nice bottle of red wine.
I splurged on last night's April Fool's dinner, which was a meatloaf, prepared in the shape of a layer cake and frosted with mashed potatoes. (My proud vegetarian father was with me when I bought the hamburger, and was shocked that it cost $7.99-per-pound at schwanky New Seasons.) However, I balanced it out with tonight's burrito meal featuring slow cooked black beans and roasted potatoes. One expensive meal plus one extremely cheap meal level out to two reasonably priced meals.
I put together a Buy Nothing group post offering a stack of recent decor magazines, and then wrote an additional post asking for a pair of sunglasses. Crossing my fingers, as my old sunglasses are an embarrassment due to one arm being missing. Yeah, I'm that lady.
Our backyard lawn has once again bitten the dust, and it's my husband's instinct to reseed it as we do, every damned year. This means a yard that can't be walked on for ages, plus watering and mowing. I say let the moss take over and accept it for what it is, which is deeply shady. I'm tempted to throw down a bed of mulch and then arrange outdoor furniture and potted plants. I am done fighting nature!
I didn't buy a Lear Jet.
Now your turn. What frugal things have you been up to?
Katy Wolk-Stanley
"Use it up, wear it out, make it do or do without."
Click 
HERE
 to follow The Non-Consumer Advocate on 
Twitter
.
Click 
HERE
 to follow The Non-Consumer Advocate on 
Instagram.
Click 
HERE
 to join The Non-Consumer Advocate 
Facebook
 group.
Click 
HERE
 to follow The Non-Consumer Advocate on 
Pinterest.