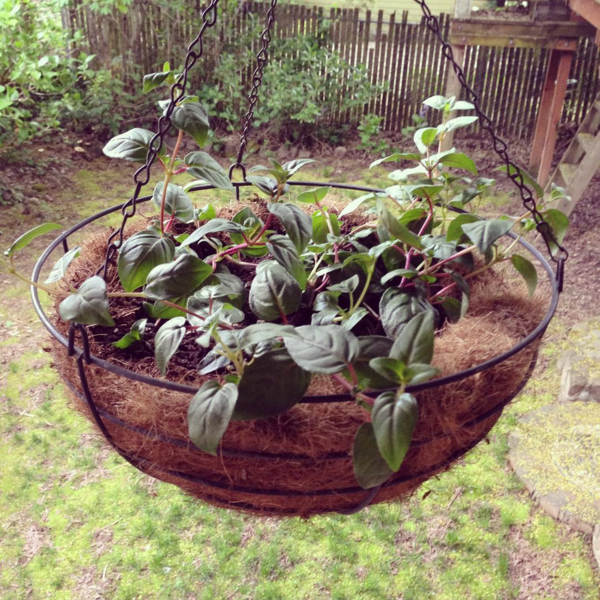 I made sure to get myself over to Fred Meyer's Fuchsia Saturday, which ties with Halloween as my favorite annual holiday. (nyuk, nyuk, pun intended!) Five fuchsia starts for $3, plus they provide free potting soil and plant up your container for free?! It's my jam. Nine dollars out of pocket and I now have three pretty hanging baskets to look at out my kitchen window for the year. Almost makes up for the lawn that converted itself into a meadow of moss.
I carefully placed the hanging baskets into the back of the Prius and then ran into the store to pick up a few groceries. I was in a hurry, as I'd left a houseguest alone at the house, and didn't want to be rude. I quickly grabbed my eggs, bulk bay leaves, onions, bananas, apples, vinegar and milk, making sure to locate a gallon that had reached its sell-by date, which brought the price down to a budget-friendly dollar. I got home and then realized that I'd abandoned the milk and vinegar in the bottom of the cart, which prompted some rather unladylike language. (I'm a real class act, just call me "The Cursing Hostess.") I did walk back to the store an hour or so later, showed my receipt and located my exact gallon of milk and another gallon of vinegar. Some days are just like this.
My younger son set up a checking account with our credit union, so I helped him create an online budget with Dave Ramsey's EveryDollar.com. He works around ten hours per week, plus earns a bit here and there helping to clean my mother's guest cottages. He has no actual expenses at this point in his life, but that will be changing soon when he heads off to college in the fall. He was inspired to increase his income and is looking to go through some of his old stuff with an eye for resale. The apple did not fall far from the tree with this one.
I worked both Thursday and Friday this past week, and I made sure to bring my own lunches and drink the free crappy coffee and the free lovely tea. I'd pre-prepared three pans of enchiladas on Wednesday, and we ended up eating them both evenings that I worked. Delicious and satisfying, they helped steer my husband away from the temptation of takeout, or more likely, meals that require expensive and finicky ingredients that end up costing more than takeout would have. Bless his heart.
I didn't buy a Lear Jet.
Now your turn. What frugal things have you been up to?
Katy Wolk-Stanley
"Use it up, wear it out, make it do or do without."