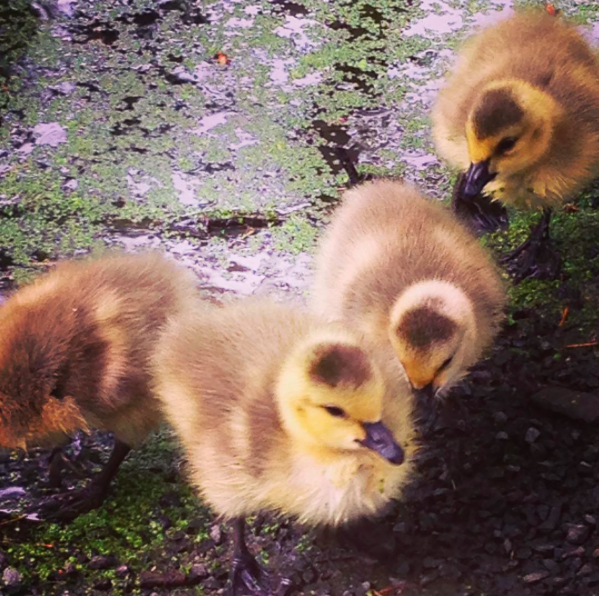 Yesterday was my husband's birthday, so we spent the day celebrating his 51st year of life. I took him to lunch at a local Mexican restaurant, and used a frequent buyer's card that I always keep in my wallet. I didn't get a discount, but I filled up enough punches that my next meal will be free. (This is one of my father's favorite places, so he takes me here a couple times per month.) We then walked down to Starbucks for his free birthday drink, and had them split the venti size into two smaller cups for a frugal treat. Afterwards we drove over to the Crystal Springs Rhododendron Garden for a stroll. It's free on Mondays and we enjoyed watching all the baby ducklings and goslings. (So cute!) Lastly, we had my mother and step father over for dinner, and I served Costco steaks along with asparagus and roasted potatoes. Not cheap, but exponentially less than any restaurant would have been for the five of us. Dessert was a homebaked blueberry pie, which I made using Grocery Outlet frozen blueberries. A lovely day, a frugal day. A birthday.
Tonight I'm speaking at the Belmont branch library about the buy-nothing-new Compact. The location is close to the house, so I'll walk. (6 P.M. for any locals who'd like to attend.)
I stopped at the swanky N.W. Portland Goodwill after dropping my son off at Sunday's Portland Timbers soccer game. I'm low on clothes at the moment and have budgeted $20 for the month. I found an adorable skirt, which was half-off at $3.50. My husband and son have their sports, I have mine.
My local recycling depot has stopped accepting styrofoam, although there was a sign saying that their Tualitin location accepts it. This would be a huge schlep from the house, so I was pretty bummed. (I have two paper bags filled with styrofoam meat trays.) My area is about to have their annual neighborhood clean up day, where people can drop off hard to get rid of items. Sadly I have to work this Saturday, so I posted on my street's Facebook group asking if someone could bring my styrofoam. A neighbor offered to help which is a huge relief, as these trays have been accumulating for over a year.
I didn't buy a physical gift for my husband, and I certainly didn't buy a Lear Jet.
Now your turn. What frugal things have you been up to?
Katy Wolk-Stanley
"Use it up, wear it out, make it do or do without."
Click HERE to follow The Non-Consumer Advocate on Twitter.
Click HERE to follow The Non-Consumer Advocate on Instagram.
Click HERE to join The Non-Consumer Advocate Facebook group.
Click HERE to follow The Non-Consumer Advocate on Pinterest.