I gave my talk yesterday about the buy-nothing-new Compact and non-consumerism at large. I took notes on what I wanted to talk about, which I then organized into a speech. I was pretty nervous, as the minimalism group had scheduled an hour and a half for me to speak. An hour and a half is a long time to blather on speak, so I wanted to make sure I wasn't going to run out of subject matter.
I feel that it's always a good thing to stretch oneself, even if it's nerve-wracking. I advise my sons to "hold themselves to a higher standard," and I try to apply this advice to myself. It's character building, even if it makes certain 48-year-old women feel a wee bit barfy.
I feel that the talk was quite successful, but since it was an unpaid gig, the group was going to get their money's worth whatever the result.
Of course, The Non-Consumer Advocate blog has an international readership, so the opportunity to come see me live in person was limited to local Portlanders. I thought it would be fun for you to get a sneak peek at my notes. So please enjoy a few visuals from my speech!
I planned to stretch out the talk by getting some discussion going. Here were some "talking points."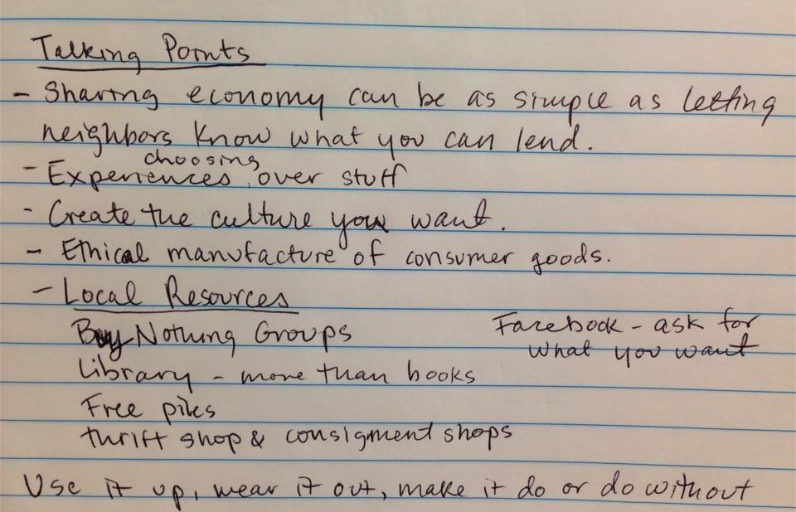 I feel that the minimalism and zero waste movement often wants to distance itself from frugality, as it's considered a lesser goal. I think it's important for all these groups to overlap.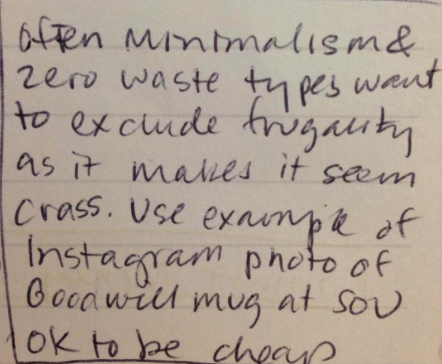 The "Goodwill mug at SOU" example was from this comment from someone whose Instagram handle was "ZeroWasteGuy." That's some grade-A zero waste mansplaining, people.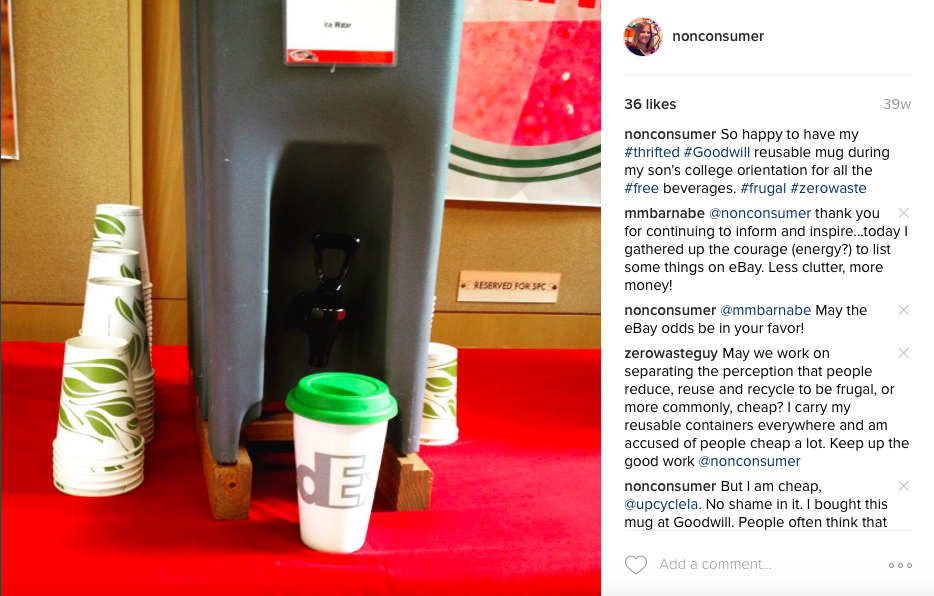 I don't write enough about the "pause point" that's automatically inserted when choosing to only buy used. You can't be impulsive with purchases, so it sets you free from mindless shopping.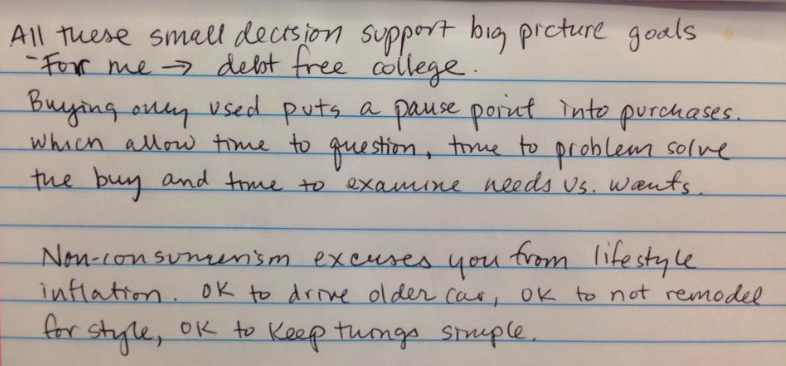 I like this handy little guide to what defines non-consumerism. It's in no particular order and I probably left something out, but I especially enjoy that it's bookmarked by wealth building and generosity. Wonderful tandem goals.

Of course I got off on a tangent or two, and I'm far from a polished Ted Talk, but I think it went well. And maybe next time I give a speech I'll be a little less nauseous and a little more confident.
Holding myself to a higher standard and not letting nerves get in the way of life's decisions.
Katy Wolk-Stanley