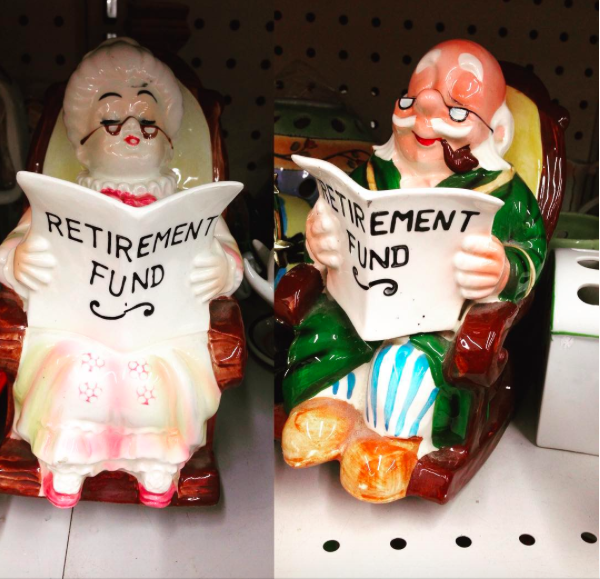 I sold my Goodwill table for $135, which is not too shabby since I picked it up for $24. It took a few days of e-mailing back and forth, but mostly because I worked long 12-hour shifts on Monday, Tuesday and Wednesday.
I stopped by one of my mother's guest cottages yesterday to her help finish cleaning between tenants. I didn't get paid, but I did bring home two bags of groceries which included an untouched mini marionberry pie, orange juice, milk, bread, ice cream, peanut butter, jam, creamer and a power bar.
My husband forgot to bring his packed lunch to work last night. Instead of buying lunch, he came home around midnight to pick it up. (The poor guy work 5 P.M. to 5 A.M.)
My older son and I stopped at Goodwill, although I didn't buy anything. However, I did spy a few 0f my favorite targeted savings banks. I've come across this elderly couple at least five or six times through the years. I kind of wish I'd been buying them all along as I think they'd look cool all lined up together on a shelf. Buying nothing? 100% savings!
My fancy thrifted Lane recliner was kind of wobbly, so I turned it upside down and found that it was missing three bolts. I took one out and proceeded to have the hardware store match it. I spent a grand total of $1.80, and now the chair no longer wobbles. Not a bad investment, especially since it would have cost $775 to buy a new version of this chair.
Now your turn. What frugal things have you been up to?
Katy Wolk-Stanley