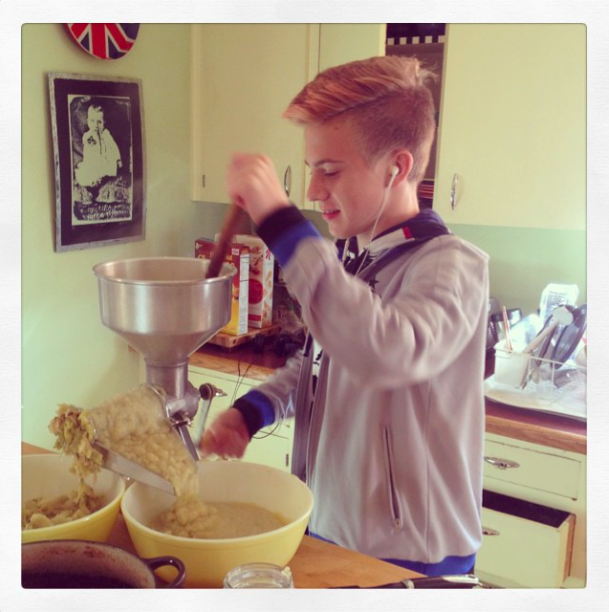 I started processing the hundred pounds of apples I bought last week. I borrowed my father's ancient Squeezo Strainer and made 18 quarts of applesauce. I made use of what I already owned, which meant consolidating a few jars, as well as moving storage for a few items from jars to Ziploc bags. I still have an enormous number of apples on hand, but I need to scrounge up more jars before I start back up again.
I'd been keeping an eye out for a new thrift store blanket for the bed in the spare bedroom, but instead decided to mend it. Although I didn't have the exact right color of thread for the repair, I used a similar shade, and it's almost invisible.
Tonight's dinner was The Pioneer Woman's Chicken Pot Pie. I had a Ziploc bag of leftover pie dough in the freezer, which when rolled very thin was enough for the recipe. The dough was a bit tough as it had been handled too much, but since the dinner was for us and not the Queen of England, there were no complaints. The recipe also called for a quarter-cup of white wine, which I didn't have on hand. However, I did have an open bottle of red which gave the pie a lovely flavor without requiring me to buy an extra bottle of wine. Also, the recipe called for celery, and I bought two ribs instead of an entire bunch. (Less waste and very cheap this way!)
We had a very low key weekend, and didn't drive anywhere except for a single soccer game. I did make sure to batch a few errands since we were out and about. (Library, gas station, my father's house.) I walked to the grocery store, but I only bought the items that were on my list. (Bananas, milk, celery, whipping cream, oatmeal.) There's nothing cheaper than sleeping in and puttering around the house!
My husband packs his own lunch for work, but has no access to a microwave or refrigeration. He likes to have nice cold cuts for sandwiches. which cost $10 per pound when bought at the deli. I found a nice unsliced chunk of Columbus brand precooked pork loin at The Grocery Outlet for $3.50 per pound and bought one to try it out. I used our meat slicer, (my husband bought it at Costco around seven years ago, and it's the first time I've used it!) and thinly sliced the whole thing. The resulting cold cuts taste just as good as the most expensive deli meats, so this is something we"ll be adding to our routine. Now, if I can only transition my husband away from his Luna Bars!
Now your turn. What frugal things have you been up to?
Katy Wolk-Stanley
"Use it up, wear it out, make it do or do without."