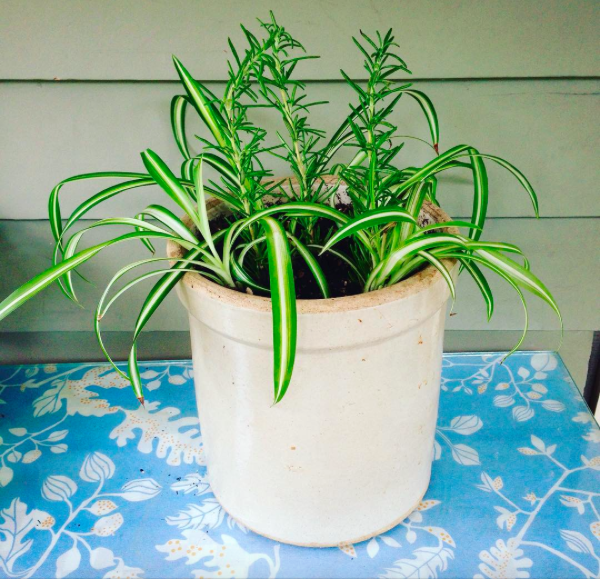 I took some rosemary and spider plant babies that I'd been rooting and planted them in a crock that I'd pulled from a free pile. The rosemary was from a neighbor's bush, the spider plants were from a prolific plant at my father's house and the soil was from a chipped terra cotta pot that someone had put out in front of their house. It'll live on my porch as my cats enjoy eating spider plants.
My younger son and I went an hour early to pick up my older son from work, which allowed us the time to walk around the park and hunt for Pokémon. Healthy quality time without any expense.
I've been very uninspired with meal planning lately, but I did assemble a pan of baked ziti last night. I used leftover marinara sauce, pasta and a can of tomatoes from the pantry, two sprouting onions, cheese we already had and a half-pound of spicy bulk sausage from New Seasons. Not your average summer meal, but it was gobbled up and so nice to sit around the dining room table with the family. I'll make pizzas tonight using the last of the sauce.
I updated my Every Dollar budget this morning and remembered that December and July are the months when we pay our next door neighbor for our half of the garbage bill. We split a single pickup which saves us both $168 per year.
I put together a listing to sell a Queen Bee messenger bag/purse that I picked up for $10 from a consignment shop. These popular bags sell new for $168, so I'm pretty sure I can get $40 for it.
Now your turn. What frugal things have you been up to?
Katy Wolk-Stanley