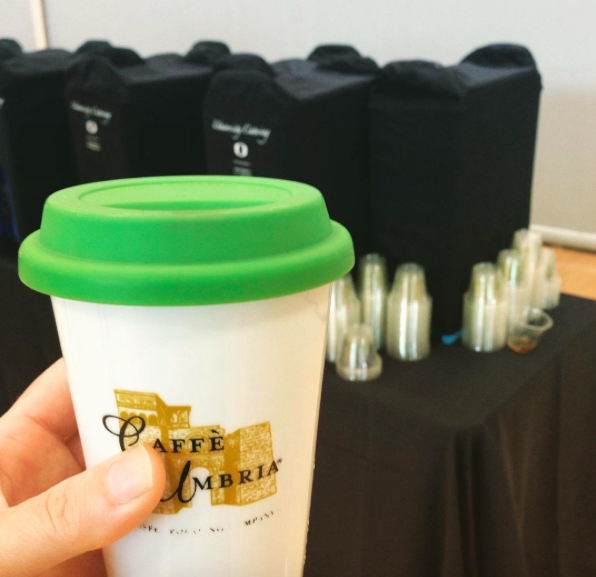 I brought my own reusable items to my son's two-day college orientation, which included a string bag, a couple of stainless steel forks, a handkerchief, a glass water bottle and a travel mug. Of course, the travel mug got the most use as it can serve to hold both coffee and water. I was happy to see that our motel served their breakfast buffet with ceramic dishes and stainless steel silverware. The coffee cups were paper, but I had my trusty thrifted mug.
I finally sold my curbside midcentury shelf while I was out of town. I had the buyer put the money into our locked mailbox, which worked perfectly for this scenario. Yes, I took a gamble that the buyer wouldn't pay, but I truly believe that there are countless more honest people than the reverse.
We were utterly exhausted by the time we arrived home last night, and there was was no freaking way any of us were going to prepare any kind of meal. I walked to the nearby Mexican food cart and was horrified dismayed to learn that they'd closed at 7 P.M. (Seriously, I'm not ashamed to admit that I almost cried.) Instead I stopped at New Seasons and had them assemble some fancy sandwiches for us. They're not cheap at $7 apiece, but they are much much cheaper than anything else would've been from the deli section. We still have a fair amount of money leftover in our restaurant budget for July, so there was zero guilt.
We spent our one free evening in Eugene with my old pal Karen. We first met while in high school, and even went on the same year abroad program together. It was very nice to catch up with her and get to know her family a little better. She'd bought some craft beers and insisted that we take the leftovers home with us since she and her husband don't drink. Plus she threw some homemade cookies into a brand new Ziploc bag for us as well. Thank you, Karen!
My husband and I attended approximately 70 bajillion information meetings at the university, including one titled "The Money Matters." I already know the logistics of how to pay since our older son also attends an Oregon state university, so I was able to not hang on every word. I realized about halfway through that I had a huge sense of calm and a smile on my face. Why? Because we've been intense about putting college money aside the past couple of years, so we're cash flowing 100% of the tuition, room and board, (approximately $25,000 per year, per child.) I leaned over and asked my husband, (who is a natural worrier) if he was feeling calm as well and he answered "yes." We high fived each other and let the hundreds of other parents ask their questions about student loans and the possibility of last minute scholarship opportunities. We're not out of the woods yet, as calamity can certainly strike throughout the next four years, but for now, we're good.*
*Note: We should have been funding 529 college savings plans since the time our sons were born, but we simply weren't in the financial situation to be doing this. If I had it to do over again I would open these account and throw small amounts in, even if it was just $5 at a time.
Now your turn. What frugal things have you been up to?
Katy Wolk-Stanley