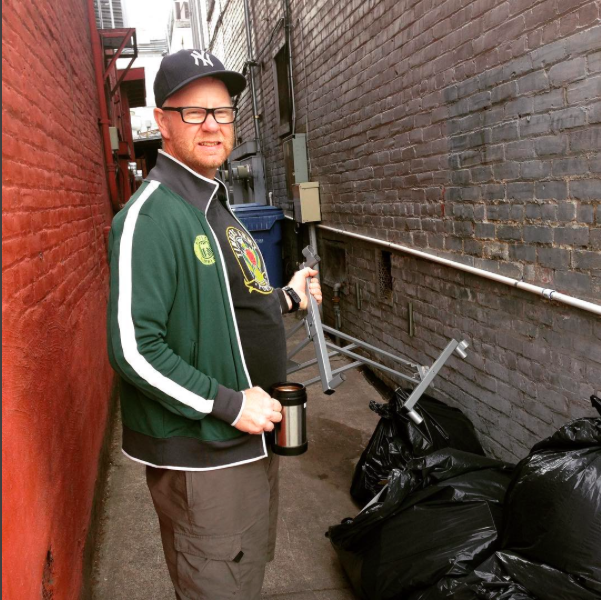 We took a day trip to Hood River, Oregon to watch the amazing kiteboarders and enjoy the town. Although the lunch was pricey, the rest of the day was quite frugal and featured my husband gleaning a wall bike rack from a literal pile of garbage.
We stopped after lunch for some "walking around coffee." I was about to accept the paper cup, when I suddenly remembered that I'd brought a reusable mug, which was in the nearby car. Luckily it was a serve-your-own coffee situation, so we caught this before a cup/lid was used. My husband and sister had also packed reusable mugs, so we were all able to enjoy zero-waste beverages.
We'd initially planned on staying a few nights at the Oregon coast during my sister's two-week visit, but then realized that none of us welcomed the expense. Instead we planned a few day trips, (beach, mountain, gorge) which have been very enjoyable without the cost of a motel. This plan has justified some lovely restaurant meals which still leave us with more money in our wallets than if we'd stayed the night.
I stopped into the Boutique Goodwill in Hood River, but didn't buy anything. I zipped over to Fred Meyer this morning to buy milk, butter, tea and bananas and only bought milk, butter, tea and bananas. (Seriously, it's always a frugal win when you stick to your list!) I received payment on some Clark Howard articles, I keep re-listing all my Craigslist listings* and I just learned that my younger son's dorm bed will be a regular twin, not "twin-XL" size. Much easier to thrift for!
I didn't buy a Lear Jet.
* I sold a comforter/sham set as a direct result of re-listing my Craigslist ads. It was one that I'd gleaned for free from a garage sale leftovers pile a few weeks ago.
Now your turn. What frugal things have you been up to?
Katy Wolk-Stanley