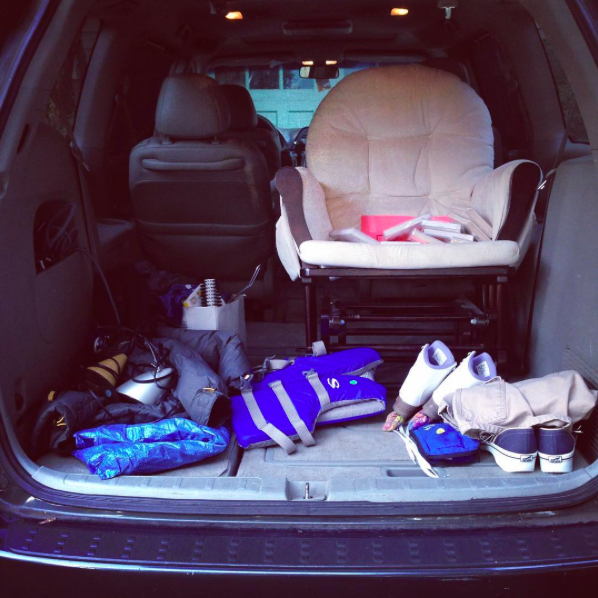 I sold a pair of girls' figure skates on Craigslist for $30. These were a pair that I picked up for free from garage sale leftovers when my sister was in town. In all, I made $115 from the stuff I found that day. (Rocking chair, blanket/sham set, cloth diapering kit and the figure skates.) I kept a great spatula for myself from that day, and my sister kept a brand new pair of Danskos, a life vest, clothing for her daughter and an addictive wooden toy.
I'm exhausted from working the last couple of days and plan on doing absolutely nothing today. Actually, that's a lie. I'll finish reading my library copy of Harry Potter and the Cursed Child today. And laundry. Always laundry.
I re-listed all my Craigslist listings this morning. Although some items sell immediately, most things take awhile to find a new home. For example, I listed those figure skates when my sister was in town, which means that they took almost a full month to sell. But that's no bother to me, as they took up almost no room and it costs nothing to use Craigslist.
I helped myself to a huge box of nice fabric and brand new Chinese lanterns that were set beside a dumpster behind an antiques mall. I gave the fabric to my friend Lise, who'll turn them into tote bags to sell, and I'll see if my local consignment shop wants the lanterns. If they don't, I'll make them available for my Buy Nothing group. This is the fourth (fifth?) time that I've gleaned stuff from this spot to sell, which has made it a logical place to cruise past when I visit my mother's neighborhood. From this spot I've found and then sold a vintage dining room chair, a cute vintage American Tourister train case, a vintage plant stand and something else that's slipping my addled mind.
My husband went to the Portland Timbers soccer game today, and was proud to show me how he'd packed a sandwich so he wouldn't have to buy expensive stadium food. Aww . . . he does love me!
Now your turn. What frugal things have you been up to?
Katy Wolk-Stanley