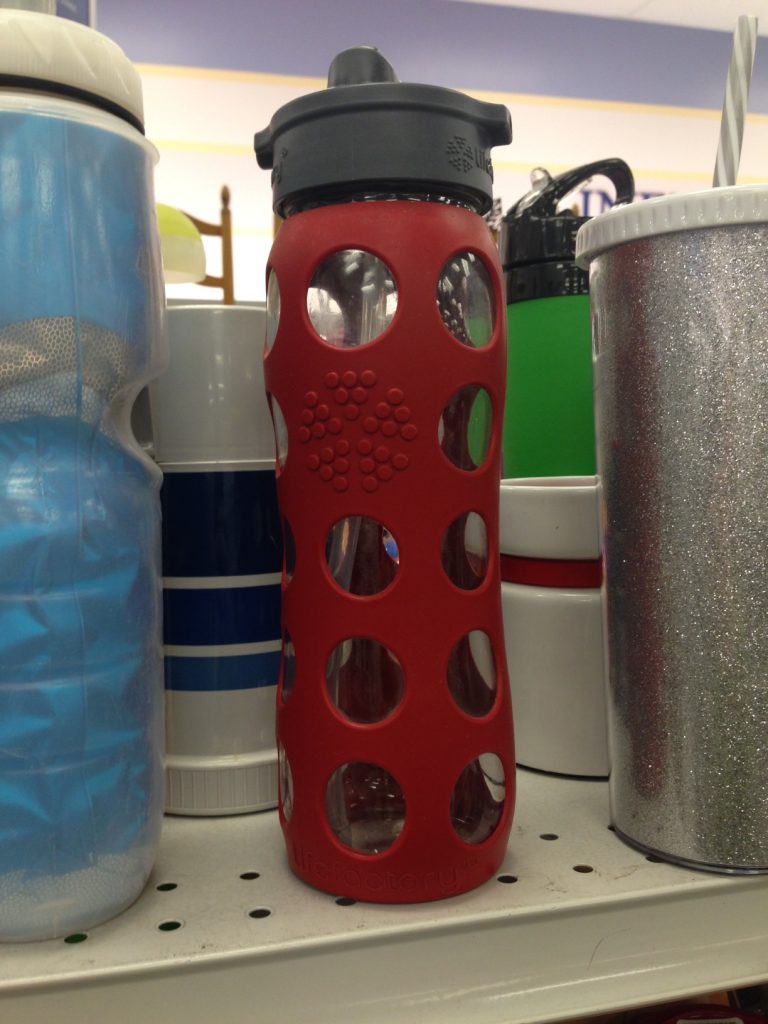 I finally found a glass water bottle to replace the one I broke while dropping my older son at college. Priced at only $2.99, this Goodwill one was a no brainer. The best part is that since I saved the lid from my old one, I don't have to use the is-it-really-clean? sippy top from the thrifted one. Thank you, LifeFactory for making your components interchangeable, even though I went from a 12-ounce to a 16-ounce bottle!
I decorated our front porch using Halloween items that an elderly neighbor gave to us at least ten years ago. She'd been that person who went overboard making her house as creepy as possible, but was stepping back from the effort. We've been using these items ever since, which means we've never spent a penny on Halloween decor. Our skeletons, skulls, spiders, black cats and ravens sit out for one night per year and should conceivably last forever. I received so much stuff initially that we were even able to share with our next door neighbors.
I picked up a soaking wet cashmere scarf that had been repeatedly driven over on a local busy street. It was crusted with slimy leaves, but I figured I'd at least try to rejuvenate it. The tag read "dry clean only," but instead I removed the leaves and threw it into the gentle cycle with a squirt of dishwashing liquid. I need to pick off a few extraneous fluffy bits, but otherwise it's now good to go.
I bought a couple of items while at Goodwill yesterday that I'll post on Craigslist. This included a $25 Specialized brand girl's bike that retails for $325 and a $10 Griswold brand cast iron skillet that I should be able to sell for $50. Not too shabby, and the $140 that I'll net will come in very handy towards the kids' next college tuition payment.
I gave my friend Lise a stash of used plastic bags for her dog poop needs, I gifted a few jars of applesauce to friends and family, I'll be returning two bags of unopened Halloween candy, I scheduled an extra eight hour hospital shift, I returned unused canning supplies that didn't get opened, I mailed out one of my son's used textbooks that I sold through Half.com, I was able to create three meals from a single pre-roasted chicken and I didn't buy a Lear Jet.
Now your turn. What frugal things have you been up to?
Katy Wolk-Stanley