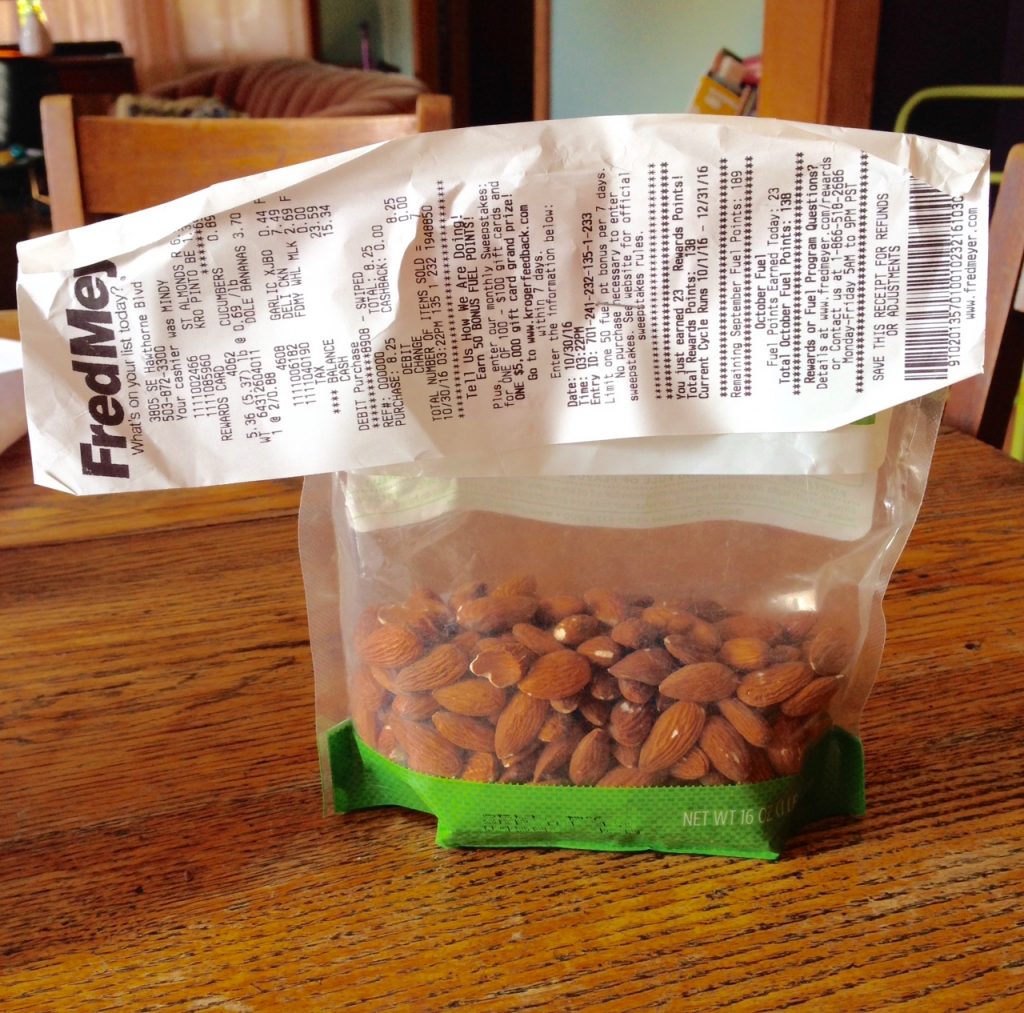 I worked yesterday and brought lunch from home, even though it was a banana and an uninspired bowl of leftover chicken soup. I drank the free coffee as well as the free tea. I drove my used, (but paid for) car home and then sat on the couch with my husband to watch the end of the world series. I lived in Chicago for a summer in 1987, so I was thrilled with the result. (Although I did go to college in Yellow Springs, Ohio, so I kind of liked both teams.)
I'm returning a $6.99 bag of whole almonds to Fred Meyer, as they were both stale and slightly rancid.
I'm cleaning one of my mother's guest cottages this afternoon which will add a little extra to the kids' college fund. The next $15,000 payment is due on January 1st, so I'm focused on creating a big ol' pile of cash. I'm taking a week off from work in early December to visit my sister's family in New York, which will create one crappy paycheck. (I'm in a position at the hospital where I don't receive any sick or vacation pay.) I know we'll have enough money, but I don't want it to be a last minute scramble.
I'm researching frugal hacks for my trip to New York City. I'll be flying into Newark airport in the afternoon, and then plan on taking a short Amtrak trip into Penn station, where I'll be able to catch the subway to The Bronx. It sounds convoluted, but only the first part is something I haven't done before. I'm also planning on dragging my sister on a free tour of the Fifth Avenue library, which is something I've always wanted to do. I've certainly been into this building before, but I've never done more than wander aimlessly. So much great free stuff to do in NYC! Plus I'll be able to bring holiday and birthday gifts to my sister's family in person, which will save me around $35.
My friend Lise is giving me three uncut pumpkins, which I'll turn into puree and freeze in two-cup portions. This seems to be a standard amount for recipes, which has worked out well in the past. I do need to buy new freezer bags, but I'll wash and reuse them.
Now your turn. What frugal things have you been up to?
Katy Wolk-Stanley