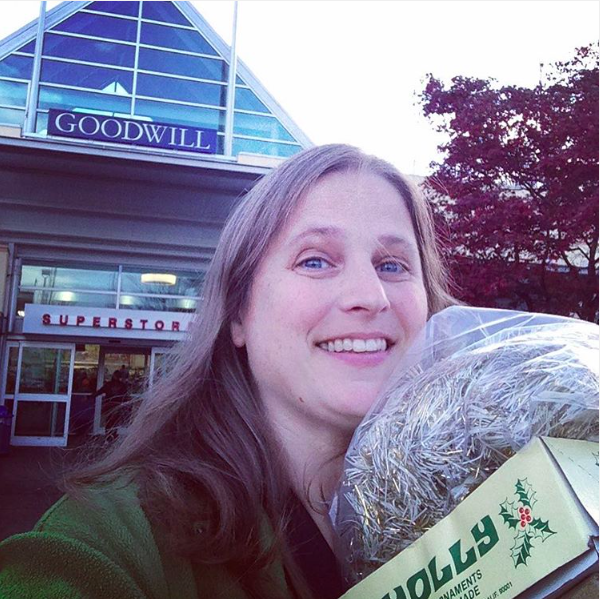 I listed my thrifted Griswold cast iron pan on Craigslist. I paid $9.99 and am asking $50. I love this pan and would be happy to keep it, so I'll stand firm on the price.
I threw half a bag of pinto beans into the crockpot in anticipation of burrito night. A delicious meal, yet extremely frugal.
I stopped by Goodwill this afternoon to pick up some craft supplies that had been put aside for me, in anticipation of a TV spot I'll be doing in a couple of weeks. I took a quick trip into the store and scored a great little $1.99 gift for my sister's upcoming birthday. I'd share what it is, but she's been known to occasionally read the blog.
My mattress pad was always bunching up and coming loose at the corners. I started looking online for a replacement one that would work better with our thick pillow top mattress, but then realized that we could actually make our bed up without a mattress pad. It was a huge ah-ha moment for me, and I have to say that I love not having to wrestle the damned thing into place all the time. $50 saved.
I transferred a big chunk of money into college savings today, I gave a canning funnel to a friend as I had two and she mentioned that she needed one, I updated our budget, I returned those rancid almonds, I stopped into The Grocery Outlet and scored some lovely cheap groceries, I raked my own yard instead of paying a landscaper, I set aside a coupon for a $19.99 oil change/car wash, I wore thrifted clothing and I didn't buy a Lear Jet.
Now your turn. What frugal things have you been up to?
Katy Wolk-Stanley