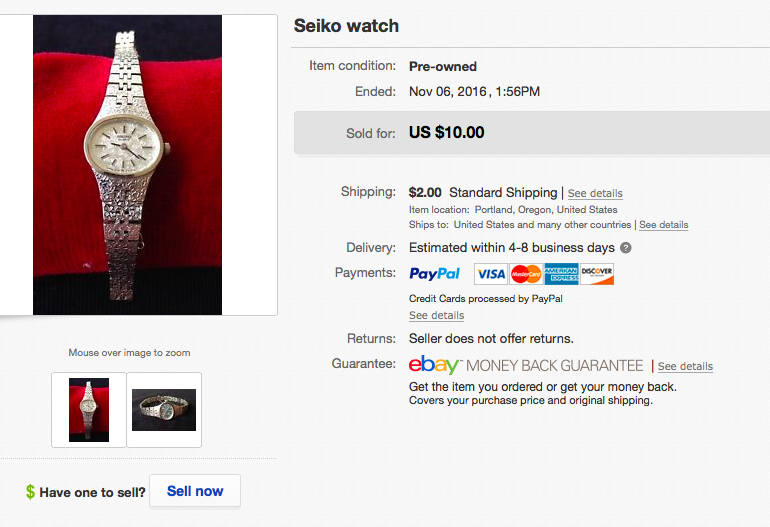 I finished washing up and mending the cashmere scarf that I literally scraped off a nearby busy street. (It was laughably nasty, and imbedded with soggy leaves!) It cleaned up so nicely that I've decided to give it to my older son as a Christmas gift. Although I may need to wash it one more time as I'll likely mess it up by caressing its unbearable downy softness.
I sold another one of my Goodwill watches on eBay today. I underestimated the shipping cost and ate around 79¢ of the profit, which is sadly my signature move. I still made a bit of money though.
I pulled a used padded envelope from the recycling bin that we share with our neighbors. I also let them know that I would accept any used packaging materials in the future, as I reuse them for eBay sales.
I walked to the grocery store as it was a rare unrainy day here in Portland. I bought nothing more than the dull stuff on my list. (Cauliflower, peas, bananas, eggs and avocados.)
I had a great idea for my older sister's birthday gift. Unfortunately, it was more than I'm currently able to budget for, so I outsourced the idea to our mother. (I do this fairly frequently, as I have no problem coming up with gift ideas!) My sister gets what she wants, my mom doesn't have to scramble for an idea and I get to stick to my budget. This may sound mercenary, but it works out very well within our family.
Now your turn. What frugal things have you been up to?
Katy Wolk-Stanley