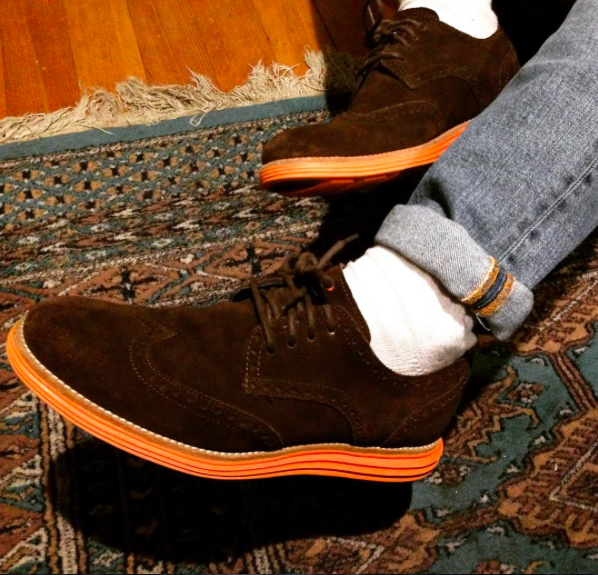 I did a quick TV appearance this morning on AM Northwest, and although I thought about freshening up my wardrobe for the occasion, I chose instead to wear my everyday clothes. I knew I wouldn't be seen from the waist down, plus it's not as if I'm a fashion or beauty blogger. I presented about making holiday wreaths from Goodwill ornaments and managed to work in the phrase "over manufacture of consumer goods" even though the segment was just a few minutes long. Click HERE to watch my TV appearance.
My son scored a pair of $250 Cole Haan-Nikes for a budget friendly $12.50 at Goodwill. They were in excellent condition and exactly his size. Now I want a pair! Seriously, I would so rock these shoes!
I listed two big bags of Christmas ornaments on my local buy nothing group just now. They're leftover from the TV Goodwill crafting project, and will be much more welcome in someone else's home than mine. I've been assembling the holiday wreath materials for a couple of months and am sick to death of the space that they take up!
I learned that a close-by business will eagerly give away free packing materials such as bubble wrap and those awful bags of air. This was good information to tuck into my brain as I'd just used up the majority of my packaging stash for a recent eBay sale. I have a few fragile items that I've been meaning to list, so this should inspire me to put those listings together!
I didn't buy a Lear Jet or a gold plated apartment in the sky.
Now your turn. What frugal things have you been up to?
Katy Wolk-Stanley