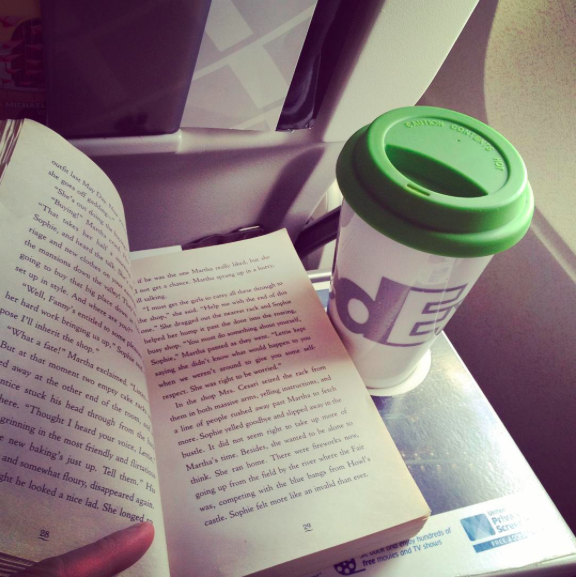 I'm flying from Oregon to New York City in just a couple of days to visit with my sister. (You may remember that I jumped on a cheap promotional ticket awhile back.) And since I strive to be an organized and deliberate person, my to-do list is both long and detailed. Not only because I don't want to forget anything important, but also because it takes extra forethought to travel in a non-consumer manner.
My goal is to minimize waste and avoid overpriced food/services. And with a little bit of preparation, these goals are completely attainable.
Non-Consumer travel hacks:
Download the free airline app, which allows you to check in using your phone, plus it gives you a digital boarding pass to save on ink and paper. Of course, you should also join the frequent flyer program for the airline.

Bring an empty travel mug and water bottle. Although you can't pass security with more than 4 ounces of liquid, there are always water fountains near the gate. You can then fill your water bottle for the flight. The travel mug can be used for free coffee, tea or even soda on the flight.

Pack your own food. Airplane food is both expensive and whatever is the polar opposite of delicious. (Gross? Bland? Yucky?) So plan ahead to have simple meals and snacks on hand to satisfy both boredom and hunger.

Pack zero waste items such as bandanas, which can double as paper towels or tissues. Travel is no excuse to mindlessly create extra garbage.

Download Netflix shows/movies to your phone ahead of time. This is a new feature, and requires you to have the most up to date version downloaded through the app store. This hack allows you to watch your shows even while in airplane mode. 

Pack reading material. Avoid the temptation of the airport booksellers by bringing something from home, even a library book. (I prefer paperbacks when traveling as they take up less space.) For those who use an e-reader, download some free library e-books ahead of time.

Borrow instead of buy. Most luggage spends 99.99% of its life in storage, so put the word out among family and friends if you need an extra suitcase or two. My friend and I have been practicing this sharing economy hack for years without even a single incident.

Pack lightly. Avoid checked luggage fees by minimizing the stuff that accompanies you on your travels. Choose outfits you can mix and match, and then wear your clunkiest shoes during the flight. (You'll notice that a large percentage of women wear their boots during travel instead of adding them to their suitcases.) Take advantage of laundry services, or simply wash out your lightweight items by hand.

Don't bother traveling with items that you can borrow. Examples would be scarves, gloves, umbrellas, etc. My sister is a knitter/crocheter, so I know beyond a shadow of a doubt that I can borrow a scarf or gloves from her once I hit my destination.

Utilize public transportation. Getting from the airport to your destination isn't as hard as it sounds. You can research the process ahead of time, which can usually be found online with just a couple clicks of the mouse.
Do you have a favorite non-consumer travel hack to add? Please share them in the comments section below.
Looking for NYC specific frugal travel ideas? Click HERE to read my blog post on that subject.
Katy Wolk-Stanley