My younger son and I are currently in New York City for my nephew's Bar Mitzvah. And because I am who I am, (completely, utterly and unapologetically cheap) I am using garbage picked paint to paint the town red. (In this metaphor, my frugal activities are "the paint," and hanging out with my son is now considered "painting the town red.")
Got it?
Here are my frugal tips for visiting New York:
Take public transportation from the airport. (JFK has subway service, and Laguardia has a $2.50 bus to subway option.) If this prospect is too scary for you, then might I suggest splitting a cab with someone. This someone can be the person you sat next to on the plane or anyone also in line for a cab. Because, guess what?  You are unlikely to be the only person who enjoys saving money. Just tell the cabby there are going to be two stops.
Take advantage of NYC's fantastic subway service. It's cleaner than you think, and filled with regular people. Get over your fear. Fast, cheap, easy? What's not to love?
Even cheaper than taking the subway is to simply walk. NYC is pretty much flat as a pancake, so walking is a breeze. You'll exercise your flabby body and get to take in all the architecture and sights. (Wait, what? Your body isn't flabby? Must just be me. Dang.)
Avoid the high cost museums (Museum of Modern Art, Guggenheim) and frequent the Suggested Donation museums which include The Metropolitan Museum of Art, The American Museum of Natural History and The Cloisters. They may suggest an admission price of $22, but no actual New Yorker would be caught dead paying that amount. Pay what you think is fair and fits within your budget. I promise you that the clerk won't even bat an eye.
Go explore Central Park. It's gorgeous and is hands down the best people (and nature) watching in the city. The photo ops never cease to wonder, and the price just can't be beat.
Stay with a friend. There are 75 bajillion people in NYC, surely you know one of them. (Don't worry, New Yorkers are used to freeloading friends.) Somehow missed out in the NYC friend department? Then give Airbnb a try.
Keep your meals simple and cheap. Head down to the Indian restaurants on 6th Street in the East Village and steer clear of stupid gimmicky tourist trap restaurants. (I'm looking at you, Bubba Gump Shrimp Company!) Use Yelp to find great cheap restaurants.
Shop for entertainment, not a spending activity. Look around, admire the merchandise and then leave it in the store. You have enough stuff, as do your friends and family.
Keep it real. Remember that show, Sex and The City?  Yeah . . .  it turns out it was fictional. Normal people repeat outfits, wear comfortable shoes and shy away from eating every meal in a restaurant.
Want concrete proof of Cheap-Ass Katy in The City?
Here she is gazing into a coin filled fountain. She is thinking, "How embarrassed would my teenage son be if I started scooping up some of those wet pennies?"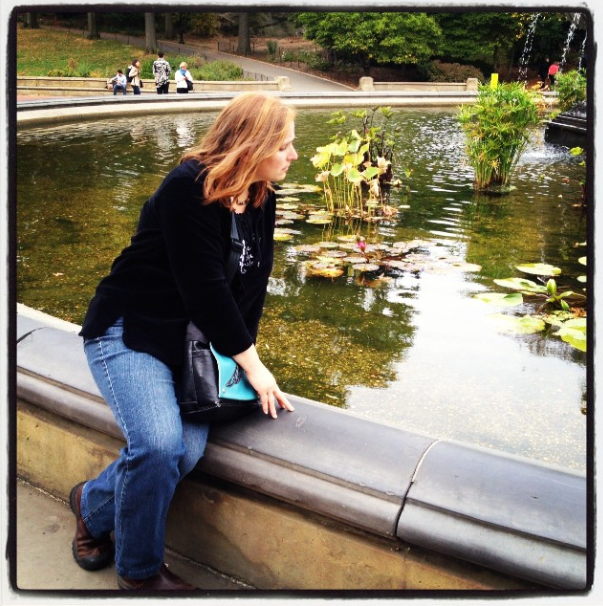 Here she is hanging out with her friend Triceratops. She is too shy to admit how little she paid for her Museum of Natural History admission.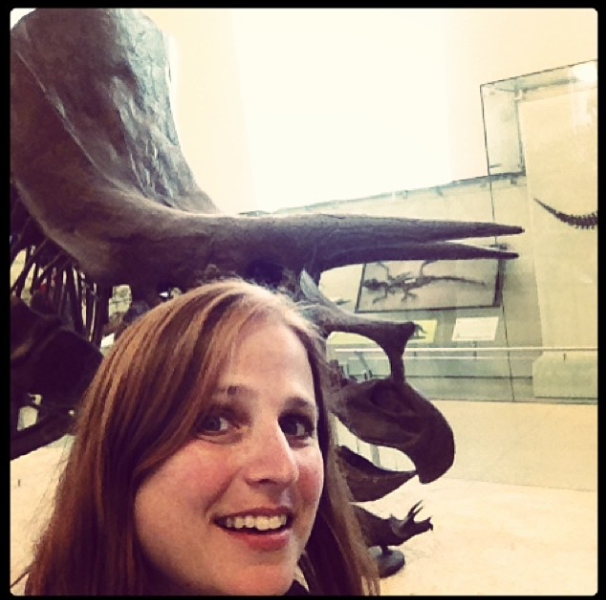 Here's her fifteen-year-old son, who enjoys hanging out with glamorous movie stars such as the Easter Island head from Night at The Museum.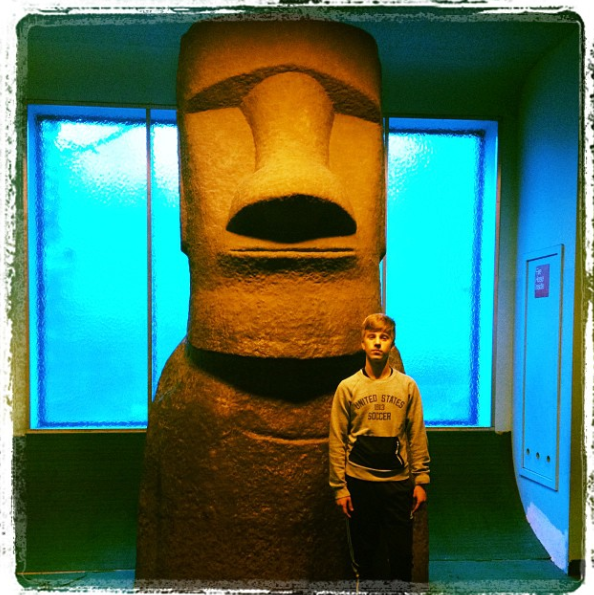 Just because New York can be expensive doesn't mean New York has to be expensive.
Just ask that cheap-ass lady.
Katy Wolk-Stanley