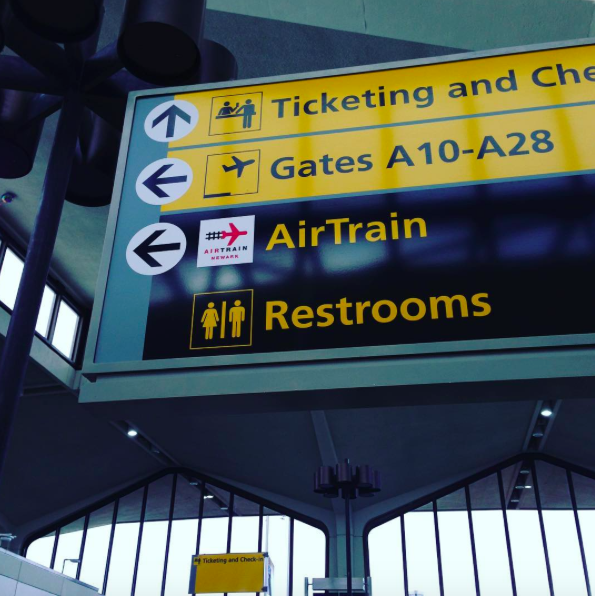 I was able to successfully navigate the public transportation from Newark airport into Manhattan by taking the "Air Train" to Amtrak. I was nervous about figuring this out, but told myself that zillions of other people do this on a daily basis. Luckily, there is great signage throughout the airport. Plus, there were women wearing "Need Help?" buttons available to assist and answer questions. The cost was a flat $13, which was much cheaper than it would have been to take a cab. Plus, I was able to help an overwhelmed Oklahoma woman to do the same thing.
I found a dime on the floor of the Newark airport bathroom. It was nowhere near the toilets, so yes . . . I picked it up. #collegefund
We went straight from Penn station to go see Othello: The Remix, which was great. (So amazing and surprisingly funny, I highly recommend it!) My plan had been to leave my roll-aboard suitcase in the coat check area during the play, but it turns out that they didn't have one. I ended up tucking it in a corner of the lobby next to the concession stand, which made me nervous about having it stolen. I didn't have to tip a coat check person, so I guess this was frugal, although frankly I would been happy to pay for the piece of mind.
I packed two sandwiches, a couple of bananas and some almonds for my nonstop flight from Portland to Newark. It ended up being more food than necessary, but it kept me from paying the inflated prices of an inflight meal.
I packed my niece and nephew's Chanukah gifts in with my luggage, which saved the cost of shipping.
Now your turn. What frugal things have you been up to?
Katy Wolk-Stanley