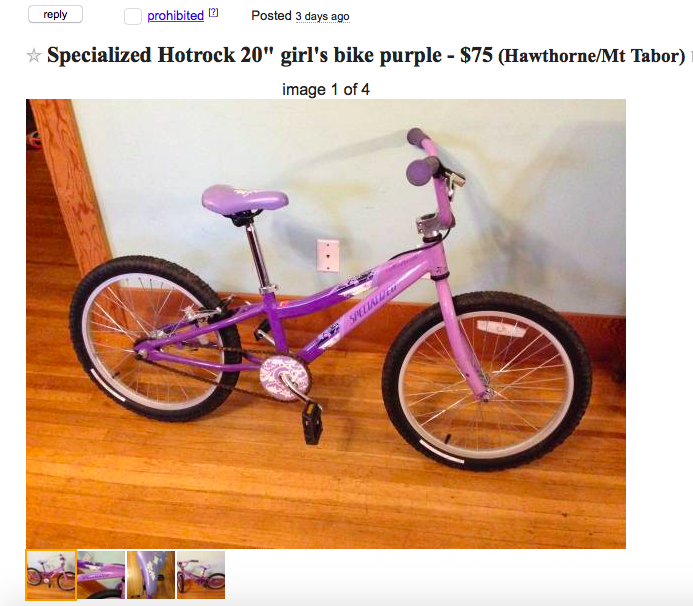 My husband brought home some nice roasted turkey that was leftover from a work event. We already had potatoes, so I whipped up a quick batch of mashed potatoes and gravy. Add in a 99¢ packet of frozen peas and the cranberry sauce still leftover from Thanksgiving and we now have a feast for tonight's dinner without much expense or effort.
I've been better about goofing around on Swagbucks whenever I'm watching TV. My goal is to earn three $25 Paypal gift cards per month, and although I don't always meet this goal, it's still free money. And since I can simply transfer the money into my credit union account, my Swagbuck points can be used for anything . . . including college tuition! (Yes, I know. I'm single minded and boring. Let me be your cautionary tale to start saving early!)
I renewed my Craiglist listings, as well as started a new one for a girl's bike that I bought and then somehow shoved into the basement and forgot about. I'm asking $75 for a $350 Specialized brand bike, so hopefully it'll sell quickly. Although my eBay listings are generating almost zero interest, my sister's are, so I'm living vicariously through her.
I was able to put together a meal for eight for $3 last night. This was because I had free leftover ham, (from my "turkey or ham" Christmas bonus every year) which anchored a large pot of white bean rosemary soup. I then baked a large loaf of bread, which probably set me back around 50¢. Delicious doesn't have to be expensive.
I've been saving packing supplies to use for eBay sales, I turned in another Clark Howard article, I walked to the grocery store and only bought what was on my list (milk and flour) and I didn't buy a Lear Jet.
Now your turn. What frugal things have you been up to?
Katy Wolk-Stanley