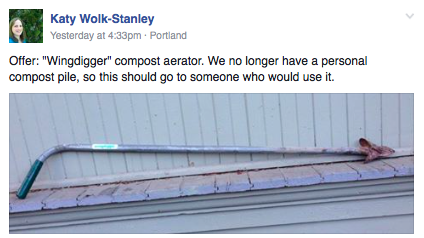 My son independently went though his room and decided to get rid of a large number of clothing and books. (Seriously, so much stuff!) Together we donated at Goodwill and then wandered the store without buying a single thing.
Wednesday is my birthday, so I've been planning my own Birthday Day of Adventures which will be fun for the family without breaking the bank. My husband already knows not to buy any gifts for me, which is exactly what I want. Experiences over stuff, people. Experiences over stuff.
I listed a compost aerator on my local Buy Nothing Group yesterday, which is now living at the home of someone who will actually use it. (We dump our compost into the yard debris can, which gets a curbside pickup.) I love this group, it's so great to put my unused stuff into the hands of people who will use it. Conversely, it's been wonderful for sourcing the occasional odds and ends that I need.
We stopped by the Eastside Voodoo Donuts location to pick up our monthly free dozen donuts for December. (It was a gift to my father which he then handed over.) The plan had been to share with neighbors, but that didn't exactly happen with both guys home from college.
I've been giving my crock pot a workout, and have made three recent meals from dried beans to keep our grocery budget under control. Split pea soup, baked beans and black bean chili have graced our table. It's amazing how many meals can be made from a single leftover ham!
Now your turn. What frugal things have you been up to?
Katy Wolk-Stanley
"Use it up, wear it out, make it do or do without."
Click HERE to follow The Non-Consumer Advocate on Twitter.
Click HERE to follow The Non-Consumer Advocate on Instagram.
Click HERE to join The Non-Consumer Advocate Facebook group.
Click HERE to follow The Non-Consumer Advocate on Pinterest.