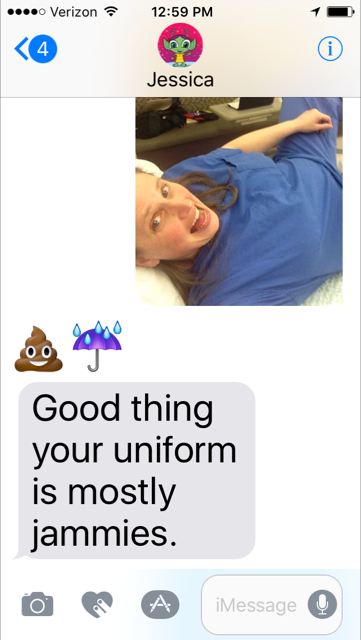 I've had a crazy couple of days, as Portland was gifted with a foot of snow that essentially shut down our quirky city. However, as a hospital based labor and delivery nurse my workplace can't exactly put up a "closed for inclement weather" sign. All of this added up to me working my scheduled Wednesday and Thursday 12-hour shifts, but having to sleep in an empty patient room with the knowledge that I might get kicked out in the middle of the night. (Luckily, I kept my squatter's rights and slept well.) I brought extra food, plus was given a $5 cafeteria voucher which covered a hearty breakfast. A library book kept me busy, and my ever present travel mug enjoyed multiple cups of the free tea. I was happy to collapse into my own bed last night, but I slept well knowing I'd spent no extra money. And I may or may not have set myself up in stirrups to send a photo to my sister. What can I say? You can't be in my particular job without a wacky sense of humor!
I called to confirm that all was on track to receive my $1.25/hour bonus for working over 800 hours in 2016. I spoke with a human resources rep who told me that I'd worked 934 hours and would be enjoying the money in my next paycheck. Schweet!
My husband has a work banquet tomorrow night that includes a fancy meal. I'll be enjoying the free food, but booze will be self-pay, so we've already discussed that we'll pre-func to enjoy beers in the parking lot together as the very cheapest of dates before we enter the hotel. Yeah, you know you're jealous of my glamorous life!
I helped my mother clean one of her guest cottages the evening that it started snowing. The snowflakes were just starting to drift down from the sky when I left the house so I stopped into Trader Joe's for milk, butter, eggs, cereal, bananas, hummus, flatbread, tortillas and chips. I spent just $23, and I left for work knowing that the essentials for covered. My mother paid me a bit extra, which she referred to a "combat pay" as there was already six inches of snow on the ground by the time I drove home. Thanks, mom!
I didn't buy a Lear Jet or a vulgar gold plated apartment in the sky.
Now your turn. What frugal things have you been up to?
Katy Wolk-Stanley
"Use it up, wear it out, make it do or do without."
Click HERE to follow The Non-Consumer Advocate on Twitter.
Click HERE to follow The Non-Consumer Advocate on Instagram.
Click HERE to join The Non-Consumer Advocate Facebook group.
Click HERE to follow The Non-Consumer Advocate on Pinterest.