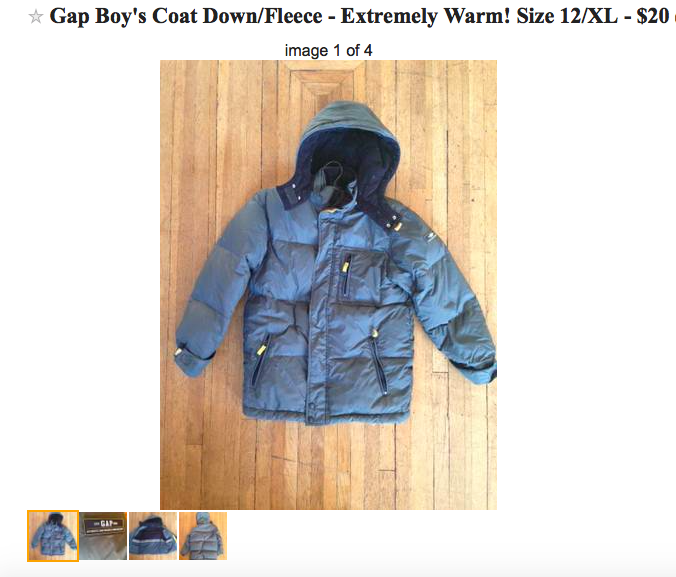 I remembered that I had a nice Gap boy's coat that I'd picked up last summer as a garage sale leftovers freebie. New ones sell for up to $105, so I listed mine for $20 and hope to do a quick turnaround thanks to the frigid Portland weather. I kind of wish this insanely warm coat was my size!
I baked up a loaf of English muffin bread from a recipe that my friend Lise said was both delicious and easy. My plan had been to have toast and runny fried eggs for dinner last night, but instead I had a couple pieces of freshly baked bread with butter and then conked out for the night. I guess I was tired from my 38 hours of working-sleeping-working at the hospital! If I were to make this bread again I'd use less salt.
I finally sold a thrifted bike that's I've had on Craigslist since Christmas eve. I think that the snowstorm-icestorm-snowstorm has kept people from running unnecessary errands. I've had three or four people who'd enquired about it so I knew it would sell eventually, so it's nice to get it out of our dining room and back onto the road.
I'm continuing to eat down a huge batch of white bean-ham soup that used up the last of our Christmas ham. Today's lunch should be the last of it which'll be a relief as I'm pretty sick of it at this point. #TakingOneForTheTeam
I used my Buy Nothing Group to give away a small insulated bag that someone dropped in front of house, (I tried, but was unable to find the owner) I turned the heat down from 63° to 65°, I helped myself to a small blank notebook from my son's room for my to-do lists as I'd filled up the last one, I saved a $5 hospital food voucher for my next work shift instead of treating myself on my way out as I was tempted to do, I didn't buy a Lear Jet and I didn't buy a vulgar gold plated apartment in the sky.
Now your turn. What frugal things have you been up to?
Katy Wolk-Stanley
"Use it up, wear it out, make it do or do without."
Click HERE to follow The Non-Consumer Advocate on Twitter.
Click HERE to follow The Non-Consumer Advocate on Instagram.
Click HERE to join The Non-Consumer Advocate Facebook group.
Click HERE to follow The Non-Consumer Advocate on Pinterest.