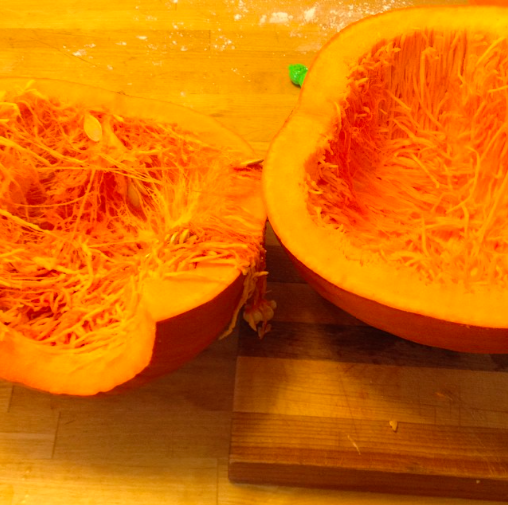 A neighbor posted something in our local Facebook group about wanting to borrow a card table and queen sized flannel sheets. In exchange she was offering a bag of powdered sugar. I didn't have the sheets, but I did have a card table, which I brought over to her house (with a tablecloth) within minutes of her posting the request. I then brought home a two-pound bag of powdered sugar, which I added to my pantry. I feel like The Prudent Homemaker would be proud of me, she's so good at sourcing free food!
I finally baked up my last Halloween pumpkin. It yielded at least a dozen cups of puree, which will eventually go into the freezer in two-cup portions, but first I'll spend a couple days baking up pumpkin theme goodies. Today is a pumpkin bundt cake. And yes, you can get pumpkin puree from a regular ol' Halloween pumpkin.
My son had an indoor soccer/futsol game last night and my husband and I decided to go to the upstairs restaurant to get ourselves a little treat. I chose a cup of coffee and they gave it to me for free. Yes, I was up until 3:30 A.M., but I did get a ton of baking done. Wheeeee!!!!!!
I was having a hard time coming up with one last gift idea for my niece, but then I realized she now has pierced ears. I chose a lovely pair of silver and turquoise earrings from my own collection that I never wear because they're too small, but will be perfect for a ten-year-old girl. They're now all polished up and ready for their new owner.
I've been continuing to enjoy the library's access to free downloadable audiobooks. Not only are they accessible without leaving home, but they disappear after three weeks, so there's never a worry about overdue fines. (So wonderful to have an audiobook at the ready on my phone.) Right now I'm listening to Agatha Christie's At Bertram's Hotel. I do love me some Miss Marple!
Now your turn. What frugal things have you been up to?
Katy Wolk-Stanley
"Use it up, wear it out, make it do or do without."