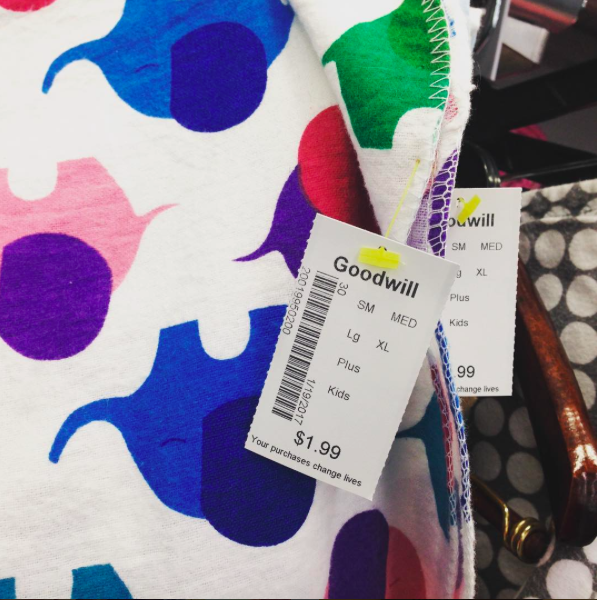 I went to The Dollar Tree to pick up a couple of the LA's Awesome brand cleaning supplies. I already buy their knock-off Oxyclean, which I confirm to be "awesome." (I use it in my laundry, but also in my Bissell rug shampooer.) I'd read in the Laundry Love and Cleaning Science Facebook group that some of the other products in this line are amazing as well, so I thought I'd give them a try.
I then pointed the Prius towards Costco for a roasted chicken plus a couple other items. I only bought the items on my list, (yogurt and coffee) and enjoyed a couple free tasty samples. This $5 chicken will get my husband and I through at least four meals, and make meal times easier for a certain frugality blogger who's going through a thoroughly unmotivated cooking phase.
I stopped into one of my favorite Goodwill stores to see if I could find anything to either flip or photograph for a blog post. Nothing really caught my eye, although I did see that they were selling one of the newborn blankets from my place of work. I'm sure that other local hospitals have the same blankets, but I still thought it was kind of funny. Some patient enjoyed her five finger discount.
I realized that my husband has a work conference this spring at nearby Timberline Lodge. I love, love, love Timberline Lodge, but have never stayed there. (It's the place used for the exteriors in the original The Shining.) I might as well tag along and enjoy a free vacation, as his employer will be paying for the room. Of course I won't take advantage of any unearned freebies, (and he'll let his employer know) but since he'll have a room, I'm totally horning in!
I didn't buy a Lear Jet or a vulgar gold-plated apartment in the sky.
Now your turn. What frugal things have you been up to?
Katy Wolk-Stanley
"Use it up, wear it out, make it do or do without."
Click HERE to follow The Non-Consumer Advocate on Twitter.
Click HERE to follow The Non-Consumer Advocate on Instagram.
Click HERE to join The Non-Consumer Advocate Facebook group.
Click HERE to follow The Non-Consumer Advocate on Pinterest.