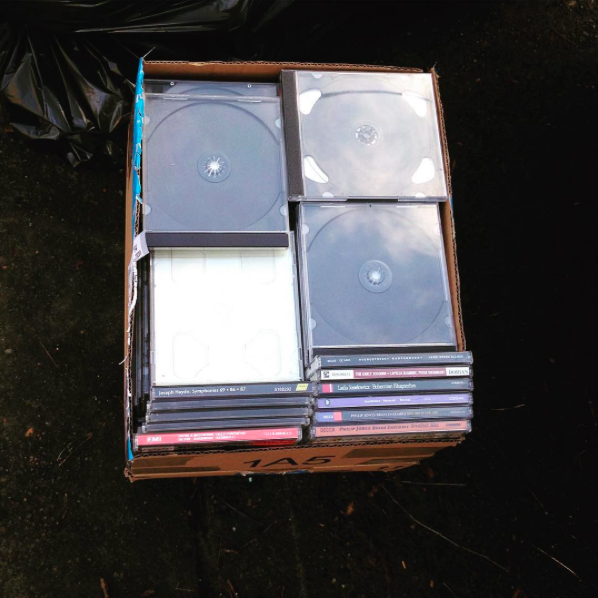 My husband and I enjoyed a cheap afternoon date yesterday that involved drinking free coffee at Ikea, driving through Wendy's for a free junior Frosty and then picking up cat litter at Costco. Others might consider our "date" to be less than romantic, but since financial stress is often quoted as being the number one marital stressor, I say that we're promoting a healthy marriage.
I walked to the mailbox and passed by the above box of CD's. I was initially excited, until I discovered that the cases were all empty. I wish the owner had taken the time to donate them to Scrap, (and I was tempted to bring them home to save them from littering the landfill) but that way lies madness. And I've got enough on my plate as it is.
I vacuumed both the front and back of the carpet remnant that's been in my son's room for 19 years, and then replaced it with the $500 Ikea rug that I garbage picked earlier in the week. I immediately listed it on my local Buy Nothing Group. I look around my son's room and realize that I've spent less than $30 for all his furniture. Mind you, there are $10,000 of Legos and Bionicles in the closet, so don't get too impressed.
Yesterday I dropped off plastics recycling, added some magazines to a Little Free Library, dropped batteries and a CFL lightbulb into Ikea's recycling bins, found a penny on the ground, watched a couple episodes of  Outlander DVD's from the library and assembled a dinner using stuff on hand, even though I really didn't feel like it.
I didn't buy a Lear Jet or a vulgar gold-plated apartment in the sky.
Now your turn. What frugal things have you been up to?
Katy Wolk-Stanley