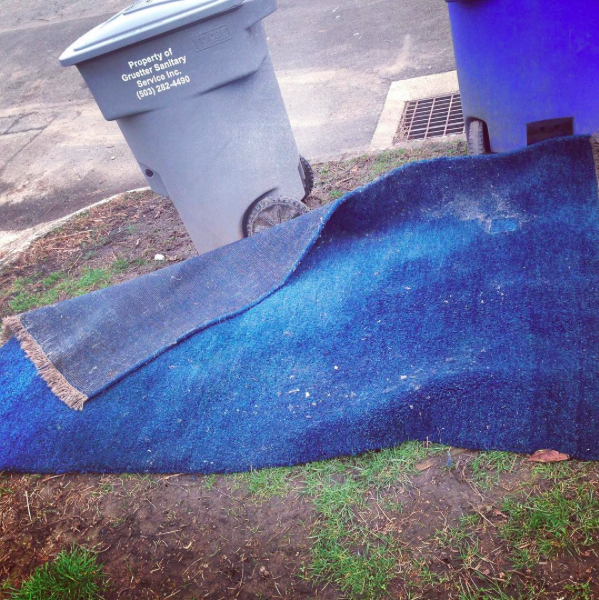 I garbage picked a rug, which prompted me to schlep my trusty Craigslist Bissell rug shampooer from the basement. It's the Ikea Gatten rug, which originally sold for $500 as it's hand knotted and 100% wool. The now perfect looking rug will live in my older son's room to replace a scrappy piece of carpet remnant that I put in as a temporary solution 19 years ago! The carpet remnant? I'll list it in my Buy Nothing Group.
I brought home a large amount of leftover food from one of my mother's guest cottages. This included an unopened pound of frozen shrimp, carrots, bok choy, red potatoes, eggs, hummus, a jar of pasta sauce and a few other items. I'll put together a large shrimp stir-fry for tonight's dinner!
My husband and I picked up our younger son from college to attend the Portland Timbers' season opening soccer game. He stayed home for two nights and then I drove him the 2-1/2 hours back to school. Although all this driving is far from frugal, we saved money by twice eating dinner in his dorm's dining hall. He always has extra points as he misses some breakfasts, so we might as well enjoy some of the food we're already paying for.
I renewed all my library books, I wore a 100% thrifted outfit for a professional appearance, I brought dribs and drabs of leftovers as a work lunch and I continue to not buy anything.
I didn't buy a Lear Jet or a vulgar gold-plated apartment in the sky.
Now your turn. What frugal things have you been up to?
Katy Wolk-Stanley