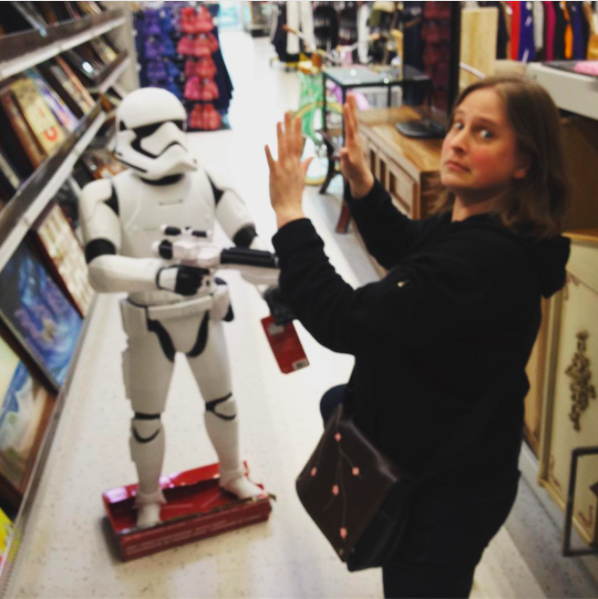 My mother and I spent an afternoon going to Goodwills, including one that was selling this large-for-a-toy-but-small-for-a-human Clone Trooper. Needless to say, I couldn't resist having a bit of fun with it before putting it back on the shelf. We also stopped into a pay-by-the-pound Goodwill Outlet where I bought a hand embroidered pillow, a nice thick potholder, a Led Zeppelin T-shirt, a laser cut Star Wars clock up-cycled from an old record and some greeting card and vintage paper napkins for my mother. Total cost? $4.97. Guess which items are for my son's upcoming 19th birthday?
I wrote five Clark Howard articles this week, I worked two hospital shifts, I helped my mother clean one of her guest cottages and I gave away multiple items through my Buy Nothing Group.
I binge watched The Kindness Diaries on Netflix. A great project from Leon Logothetis chronicling his around the world journey to rely solely on the kindness of strangers. Very much a message about non-consumerism, and I highly recommend for readers of this blog.
I drove my mother through a Wendy's restaurant, and treated her to a free Frosty Jr. using my $1 Frosty key tag that supports the Dave Thomas Foundation for Adoption. (You buy the key tag once for $1 and then get a year of Frosty Jr.'s for free.)
I didn't buy a Lear Jet or a vulgar gold-plated apartment in the sky.
Now your turn. What frugal things have you been up to?
Katy Wolk-Stanley