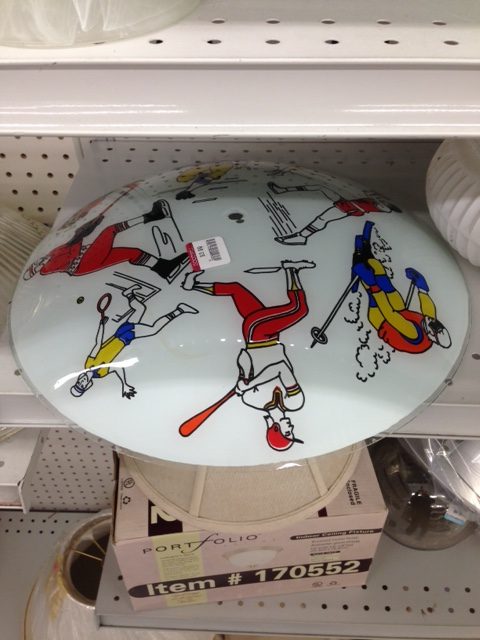 I had a two hour class at the hospital yesterday morning, which put me way across town into suburban territory. I used it as an opportunity to visit a couple of Goodwills that don't normally enter my orbit. I ended up buying two items to sell on eBay, (a vintage sports theme glass lighting shade and a pair of designer sneakers) as well as a $2.99 padded lap desk so I won't overheat my laptop. I'm still chipping away at a Goodwill gift card from Christmas, so no money was spent.
I invited my mother and step father over for dinner last night to belatedly celebrate his birthday. I was able to pull together the food from groceries I already had on hand, which was perfect since I was exhausted and had indulged in a two hour nap. We enjoyed our meal and then watched a Netflix comedy special.
I stopped into a Dollar Tree and Grocery Outlet while doing my suburban adventures and bought $1 tissue paper, a $1 jar of pickles, a $2.99 packet of Columbus brand roast beef and some 50¢ Tillamook/Bob's Red Mill yogurts. I later passed a Costco and made a quickie stop to take full advantage of their cheap gasoline. (Unrelated to frugality, but I passed some groovy looking buildings that caught my attention, and then realized that they were part of the Nike world headquarters campus. Oh right, that . . . )
Our hospital census was down earlier this week, and I got called off for eight hours of my twelve hour shift. I used the time to do the legwork for a couple different Clark Howard articles. Also, I chose to work on continuing education the day before instead of accepting the offer to go home early.
I didn't buy a Lear Jet or a a vulgar Квартира в небе.
Now your turn. What frugal things have you been up to?
Katy Wolk-Stanley