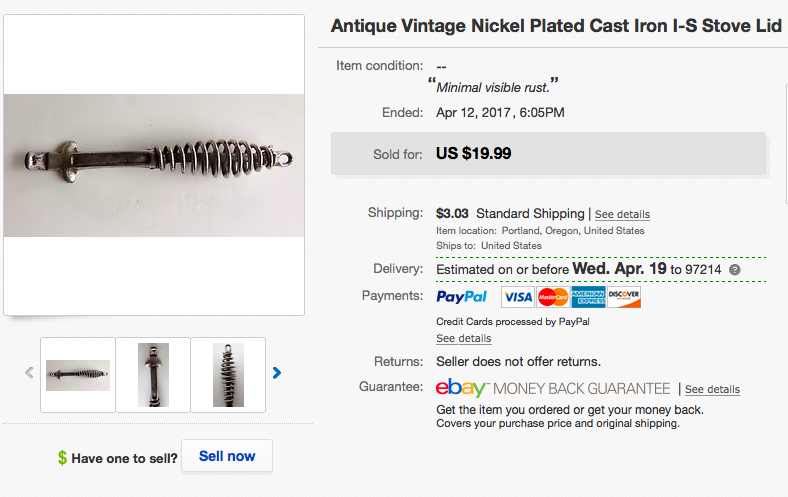 I worked the last two days, and of course I brought my own food and drank the free crappy coffee and the free delicious tea. I used cloth napkins and silverware from home, and all my food was packaged in reusable glass containers.
I listed a few more things on eBay and quickly made two sales. One was a vintage key fob screwdriver that was included in a $2.99 bag of miscellaneous Goodwill sewing supplies, (sold for $19.99) and the other was an antique cast iron stove handle thingy that I bought a million years ago for 49¢. (Also sold for $19.99.) Both pieces were packaged in used padded envelopes, and I took advantage of free bubble wrap that a local business was giving away. I even arranged for a mail carrier to pickup from the house, which meant no extra errand for me! I just love that I was able to put these odd and specific items into the hands of people who will use and appreciate them!
I'm looking forward to an upcoming freebie mini-vacation courtesy of my husband's employer. He has a three-day work conference at an amazing historic mountain lodge, and his boss says that not only am I welcome to accompany him, but that I'm specifically invited! (For those of who've seen The Shining, this lodge was used as the exteriors for the movie!) I love this historic landmark, and have always wanted to stay there, but have never felt comfortable with the splurge. I'm already gathering library books and plan on doing some serious writing in in front of the massive lobby fireplace. I just hope to type more than "All work and no play makes Jack a dull boy!"
My $2.99 bag of Goodwill sewing notions included two darning eggs. I gave one to a co-worker, and in exchange she insisted on giving me two hand knit potholders. My sons will both be living off campus in the fall, so I'm starting to think about the household supplies that they'll need.
I didn't buy a Lear Jet or a vulgar gold-plated apartment in the sky.
Now your turn. What frugal things have you been up to?
Katy Wolk-Stanley