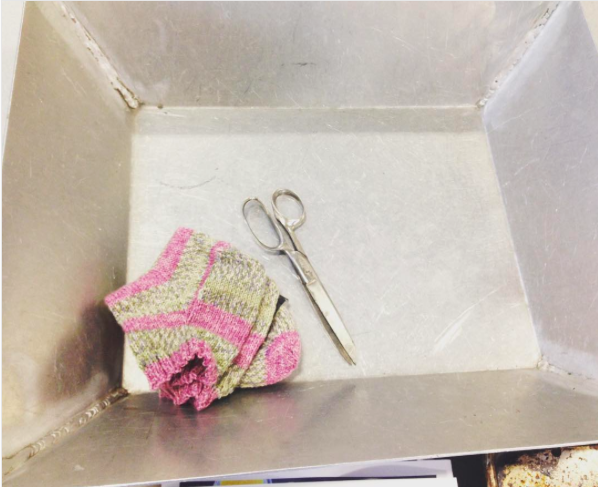 I had the privilege of receiving a behind the scenes tour of a Portland area Goodwill Outlet store yesterday, which of course was a total blast. (So interesting, and you can look forward to a stand alone blog post about it in a few days.) Afterwards I wandered around "the bins" for a bit, where I picked up a brand new pair of hand knit socks and a pair of classic vintage scissors. The total cost? 57¢. And yes, thank you for asking. I am an extremely practical person.
I'm attending a consumer opinion focus group this evening, which will bring me $100 closer to my goal of exotic vacations, groovy clothing, gourmet restaurant meals, relaxing spa days paying for my sons' college expenses. These are always very interesting and there's something very Soprano-esque about being handed an envelope full of cash. I just wish they'd tell me that "you're one of my top earners."
I borrowed my friend's sweater shaver to tidy up a vintage needlepoint pillow that was looking a bit rough. This is a perfect example of how having a "mutually moochy relationship" supports a frugal life style. There is a 0% chance that the two of us will require this item at the same time, so there's no need for duplicate ownership. She then has carte blanche to borrow anything that I own. Example? She borrows my rug shampooer from time to time.
I accepted an invitation to meet up with the alumni outreach person from my college of nursing. He knew to not hit me up for a donation, and together we enjoyed delicious lattes on his expense account.
I didn't buy a Lear Jet or a vulgar gold-plated apartment in the sky.
Now your turn. What frugal things have you been up to?
Katy Wolk-Stanley
"Use it up, wear it out, make it do or do without."