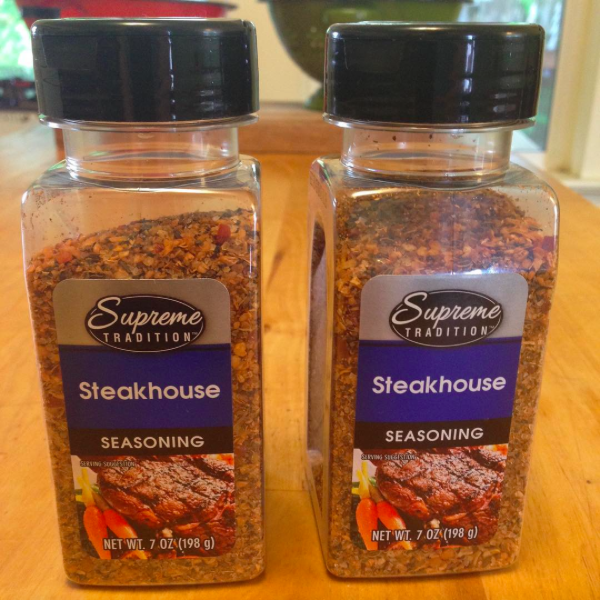 My son came home for the weekend, so the two of spent yesterday having fun about town. Our first stop was to a conveyer belt sushi restaurant for lunch, but you know that we were deliberate with our spending. Part of our frugal plan was to order bowls of udon noodles as soon as we were seated, as they're just $2, yet very filling. In the past we've waited farther into the meal to order the udon and ended up too full. The total for the two of us was $12.50.
There was no choice but to stop into the nearby Goodwill as it was walking distance from the restaurant. Neither of us found anything to buy, although I was tempted to pick up a $10 Specialized bike, but changed my mind as the chain was super rusty and I'm not in the right mindset for a new project.
We then walked over to The Dollar Tree where I bought three 28-ounce cans of crushed tomatoes, ginger snaps, knock-off Nature's Miracle and two 7-ounce containers of "Steakhouse Seasoning." I don't remember why I ever bought this stuff in the first place, but I'm glad I did because this mix is the best! It's been awhile since I've seen it in the stores, so I stocked up. The same amount of Penzy's brand steak seasoning would be $36, so this stuff is a screaming deal! (I use this in almost all my savory dishes, and it really livens up the flavor.)
The two of us then wandered around the mall as my son wanted to see the new sneakers in person. However the only thing we bought were two 90¢ lollipops from See's Candy. The man behind the counter was feeling generous and gave us four fancy chocolates, which my son happily enjoyed.
The last stop was to New Season's Market. (Like Whole Foods, but local.) I needed a half-pound of ground beef for spaghetti as were having my mother and step father over for dinner. My definition of frugality is to be deliberate and thoughtful with my resources. What that looks like is the illogical combination of canned tomatoes from a dollar store, but ground beef from an expensive source. The one choice creates the room for the other. The evening was topped off with ginger snaps and an episode of the new Mystery Science Theater 3000. No Lear Jets were harmed in the making of this blog post.
Now your turn. What frugal things have you been up to?
Katy Wolk-Stanley
"Use it up, wear it out, make it do or do without."