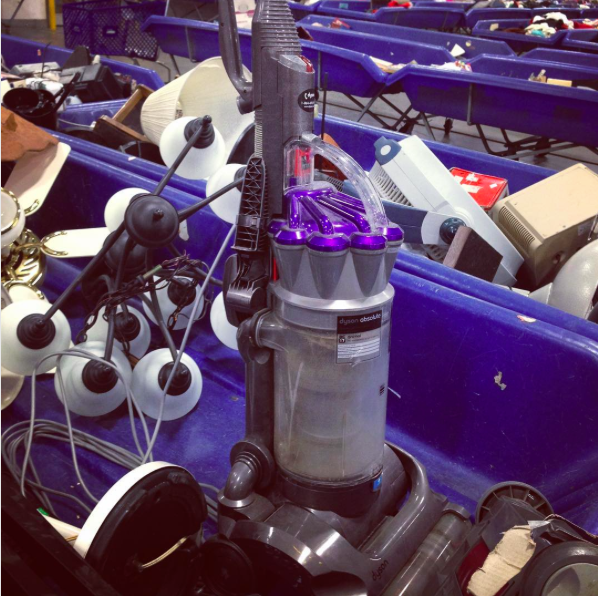 I picked up a Dyson vacuum cleaner at the pay-by-the-pound Goodwill Outlet store while thrifting with my mother. I paid a budget-worthy twenty bucks for this bad boy which needed nothing more than a thorough cleaning. The thing was crammed full of dust and crusty dog hair, but it's now immaculate inside and out thanks to an instructional YouTube video on how to crack open the cyclone. I currently have it for sale up on Craigslist, but I'd just as happy to keep it as I would to sell it. I kind of love that part of what I paid for was the weight of the filth that crusted the inside of this vacuum cleaner.
I worked the last two days and I brought my own food, drank the free crappy coffee and enjoyed the free lovely tea. I know this unexciting "frugal thing" shows up repeatedly, but much of living a simple and balanced life is about daily small choices.
I set up my backyard clothesline for the season which has prompted day after day of thunderous rain drenched weather. That's okay though, as I wouldn't expect any less from my beloved Oregon.
Today is my husband's birthday, so I'll be planning out a day of adventures for him this weekend as he doesn't have time to celebrate until then. We stopped exchanging gifts a long time ago, as neither of us need anything and it was a waste of money and a source of clutter. Studies have indicated that experiences make us happier than stuff, to which I wholeheartedly agree.
I didn't buy a Lear Jet or a vulgar Позолоченная квартира в небе.
Now your turn. What frugal things have you been up to?
Katy Wolk-Stanley
"Use it up, wear it out, make it do or do without."