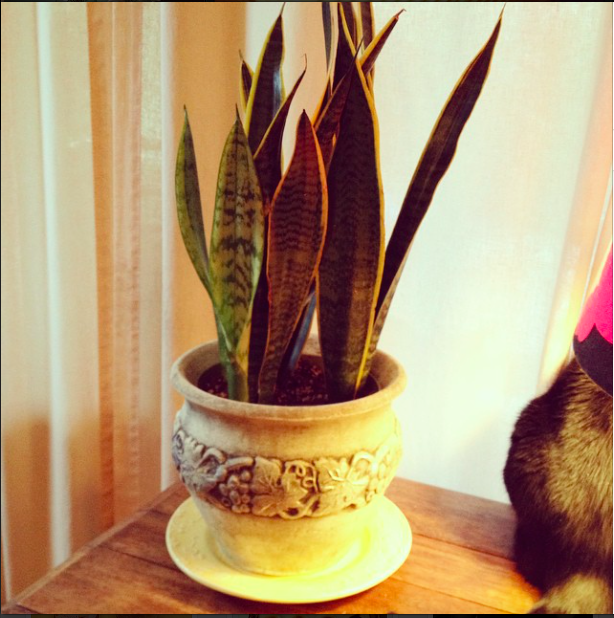 My friend Sasha brought a potted plant as a birthday gift. She knew I'd been wanting to add some mother-in-law's tongue to my collection of house plants as they're highly rated for cleansing indoor air. Of course, it came in an unattractive plastic pot, but it slotted perfectly into a recently garbage picked concrete planter. I don't exactly groove on the Olive Garden faux-Italian aesthetic, so I'll probably spray paint it later on. Make it do, baby. Make it do!
My husband and I were coming home hungry and tired from a late afternoon appointment when he brought up the subject of takeout Chinese food for dinner. He'd seen on Facebook that a friend really liked a local restaurant. I started salivating like a Pavlovian dog, as who doesn't love great Chinese takeout?! However, I already had a plan to bake up a pan of homemade restuffed potatoes from the freezer. We talked about how spending $50 on a not-so-special dinner would kill any recent frugality. It took me all of two minutes to throw the potatoes in the oven, and it was a perfectly acceptable, though non-salivary dinner. I like to save expensive restaurant meals for special occasions and enjoy the time anticipating them. Last minute takeout kills the pleasure I get from looking forward to a great meal.
I drove my minivan through the carwash using a free coupon I got from the mechanic.
I've been a bit of a homebody lately, and am saving a ton of money on gasoline, not to mention any impulse purchases that would have tagged along with running errands and shopping. Speaking of impulse purchases, I picked my son up from tutoring which is next door to Trader Joe's. I went in and bought two packs of toilet paper and nothing else. An act of self-discipline that's taken me years to hone. Years!
I didn't buy a Lear jet.
Now your turn. What frugal things have you been up to?
Katy Wolk-Stanley