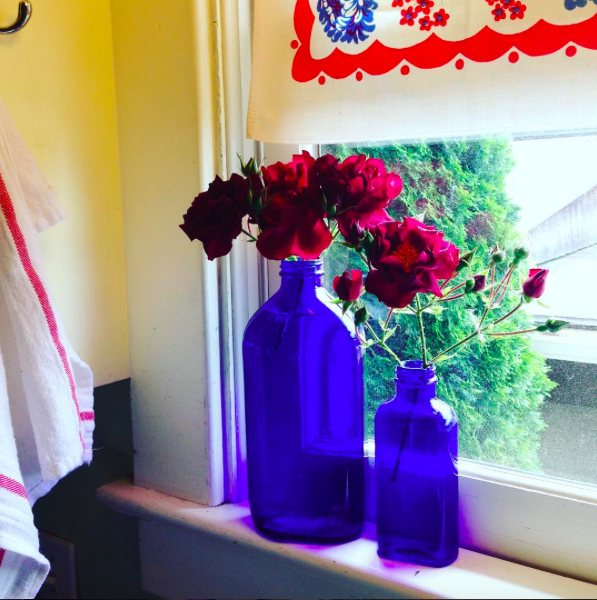 I was invited for an afternoon of dining and dancing thrifting with my new friend Sarah from Portland Sampler. Not only did she prepare a lovely meal for the two of us, but she also gifted me with a loaf of her blueberry yogurt cake which was sublime beyond comprehension.
The two of us then headed out to the Goodwill Outlet where I bought a nest of bandanas, (so handy to have on hand) a Brooks Brothers wool flat cap to sell, a vintage wool scarf from Scotland, a tiny wooden easel to prop up an old frame and a vintage rotary phone which will join my collection of old telephones. Total cost? $6.39. A bonus was that I found 36¢ in coins among the bins. Of course I added the coins to my Found Change Challenge jar. I did find a Lear Jet in one of the bins, but I put it back as they're actually pretty expensive when you pay by the pound.
I cut roses from the garden to cheer up the kitchen. This particular rose bush is a volunteer that grows in the front yard whether I want it to or not. I usually prune it in February but somehow didn't this year, and holy crap, it's suddenly insane huge! I guess there's a reason why Portland is called "The Rose City."
My husband and I have an appointment this afternoon to meet with a retirement planner through my employer. Not only is the meeting free, but he's not a salesperson so I won't have to worry that he'll steer us towards high commission products that benefit him more than us.
I lowered the prices on a few of my eBay items and have made eight sales since last night! I'll pack everything up using free materials from the post office as well as free bubble wrap that I get from a nearby business.
Now your turn. What frugal things have you been up to?
Katy Wolk-Stanley
"Use it up, wear it out, make it do or do without."