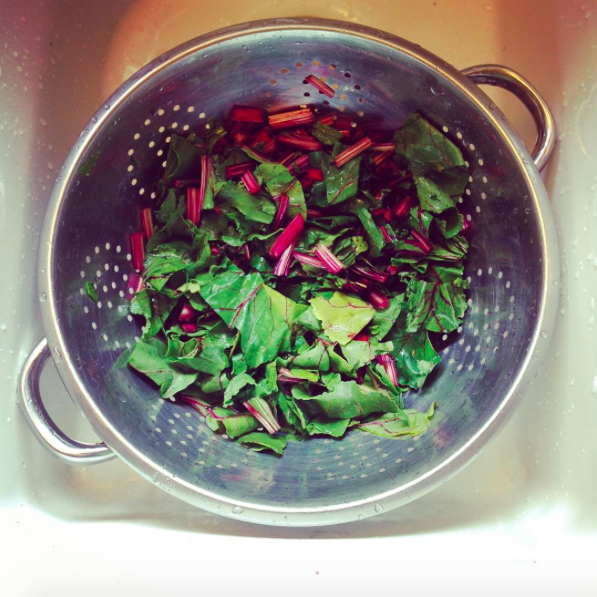 I holed up at the house yesterday and Friday to binge watch the fifth season of Orange is The New Black on Netflix. One of my favorite shows that never fails to disappoint. It's amazing how the writers have yet to dilute the intensity and continue to expand on the complexity of their diverse characters. One storyline that resonated with me was the backstory of one character which closely follows a This American Life piece from a few years ago about the inequality of educational opportunities for Bronx, NY high school students. Great podcast that's worth a listen.

I did venture out to a nearby grocery store where I bought a few items including an enormous $2 bunch of organic beets. This particular store tends to be really expensive, but sometimes you can get an impressive bargain when produce is priced per item rather than per pound. Of course I chopped up and sautéed the greens in my cast iron pan for a bonus snack. I'm the only one in my family who likes beets, so I'll have all have the roasted deliciousness for myself.

I peeked into my neighborhood's Little Free Library on my walk home, and was delighted to find that someone had added individually packaged chamomile tea bags. I took a handful and will return the favor later on with a few items from my own house. I enjoy a caffeine free cuppa in the evenings, and had almost worked through my stack of random herbal teas. Knowing that people are sharing more than books really opens up the possibilities.

I work the next two days, and am making sure to plan out my meals so I won't have to hit up the hospital cafeteria for my lunches. Not only does this lazy practice use up my budgeted restaurant allowance, but I resent wasting precious minutes from my short breaks to walk across the hospital for food.

I didn't buy a Lear Jet or a vulgar gold-plated apartment in the sky.
Now your turn. What frugal things have you been up to?
Katy Wolk-Stanley
"Use it up, wear it out, make it do or do without."