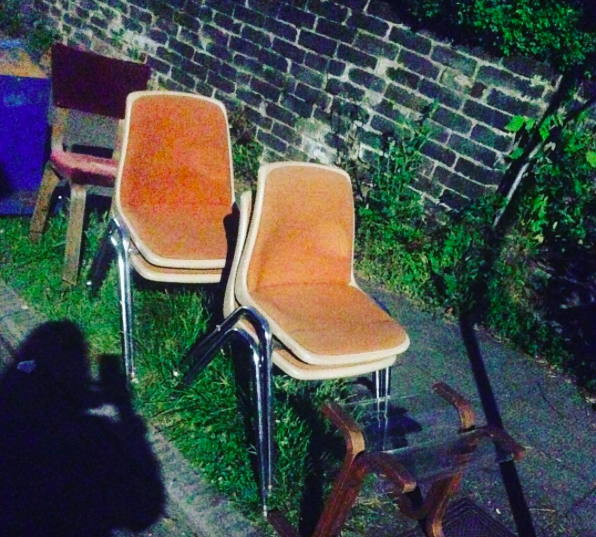 I worked the past two days and brought my own lunch, drank the free crappy coffee and then the free delicious tea. I did take my younger son who is home from college out to dinner last night, but we drank water and didn't order extras. We climbed to the top of Mt. Tabor afterwards to enjoy view and the non-rainy weather.

I scored some free vintage stacking chairs, which I'll clean up and sell on Craigslist. They're not quite prime midcentury level, but they're likely from the 1970's or late 1960's and any money made will be pure profit. I'm tempted to keep them as both of my sons will be living off campus next year. However, they'll survive just fine with random mismatched chairs. I enjoy a project and find it very satisfying to bring things back to life. I joke with my husband that "all my hobbies make money."

I put together a number of eBay and Craigslist listings and although I have yet to sell anything, I have received a number of inquiries that should lead to sales.

I pulled a Kitchenaid dough hook from an estate sale free box last week, and just now gave it to someone who had asked for one in my local Buy Nothing Group. Perfect coincidence.

I didn't buy a Lear Jet or a vulgar gold-plated apartment in the sky.
Now your turn. What frugal things have you been up to?
Katy Wolk-Stanley
"Use it up, wear it out, make it do or do without."