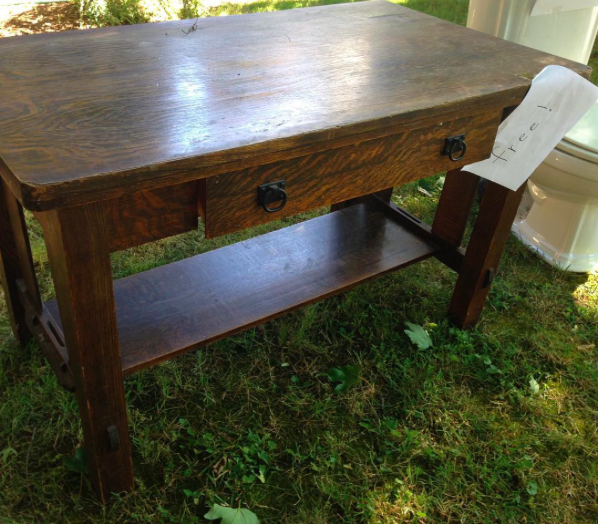 My son and I meandered through a nearby neighborhood that had just closed shop on a community garage sale day. Many residents had just shoved their stuff to the front of their property with a "FREE" sign, which worked quite nicely for me. We scored so much amazing stuff including a large amount of newborn clothing, (which I'm gifting to a very gravid co-worker) a complete Yakima rack, three boxes of labeled fossils and minerals, vintage jewelry, a fitted twin sheet, two matching pillow cases, two pairs of jeans, a pretty lampshade, hangers for my clothesline, two great towels, a shrink-wrapped blu-ray of Julia & Julia, a fancy Italian drawer organizer, a new-with-tags West Elm pillow, two life vests and then more Yakima rack components! This is only about half of what we brought home. Worry not that I have developed sudden onset hoarding, and I'll be selling most of what I took, although I am keeping the sheets and towels for our own personal use. Sadly, we didn't have room in the car for the above wobbly, but fixable mission-style desk.

My sister and niece are visiting from New York right now, so I put together a burrito buffet for last night's dinner. This worked perfectly to accommodate everyone's individual food restrictions, as people could assemble exactly the burrito they were craving. The day had been hot with a peak temperature of 102°, so I placed the bubbling crock pot of pinto beans on my front porch to avoid heating up the kitchen. (It's my summer trick and likely confuses the poor mail carrier.)

My son is taking two community college classes this summer, which he'll transfer over to the state university where he's a student. These classes are much cheaper and work perfectly to give his summer some structure. Sadly, the store where he'd worked for four (five?) years shuttered its doors, so he didn't have a job lined up.

I earned some extra money by helping my mother clean her rental cottage. The place had been not well treated, and it took me over two hours to clean the kitchen, which is the size of the interior or my Prius.

I didn't buy a Lear Jet or a vulgar gold-plated apartment in the sky.
Now your turn. What frugal things have you been up to?
Katy Wolk-Stanley
"Use it up, wear it out, make it do or do without."