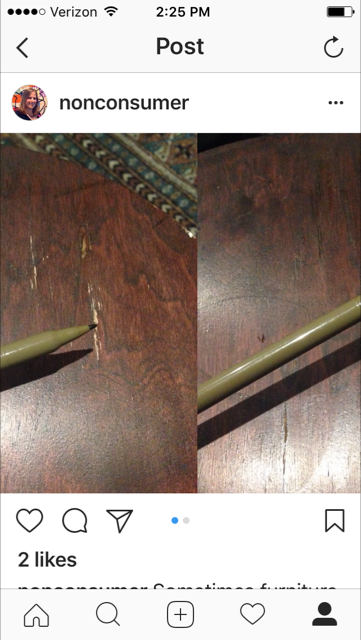 I took my family to a nearby food cart pod and handed everyone $10 to spend on lunch. This may sound like a splurge, but the money was from Craiglist sales which I specifically put aside for treats. My older son and I chose meals from an Egyptian cart and my younger son and husband ordered fried chicken from a Korean cart. We don't have any vacations planned for this summer, so instead I'm loosening the purse strings for eating out and other experiential spending. Staying close to home, but eating very well.

I hung three loads of laundry on the clothesline yesterday which was such a joy. I just love how this chore cannot be rushed, which transforms it into a meditative task. Everything smells so good and I saved money from my electric bill while helping our clothes to last longer.

I called our cable company and told them I was considering canceling our plan as we were no longer receiving free HBO. The customer service representative quickly offered an additional free three-months of HBO, which was what I wanted. I have done this at least five times through the years and they're always happy to provide it. Of course, this was prompted by the season seven premier of

Game of Thrones!

 Winter is coming? Nope . . . free HBO is coming! (We have such a low level cable plan that it only costs us $10 extra per month than having internet alone.)

I donated a small bag of unwanted items to Goodwill. Although a huge load of stuff is much more impressive, it's consistent small amounts that make a difference for maintaining an uncluttered home. Of course I took a donation receipt for my taxes.

I took a semi-matching felt-tip pen to a thrifted table to cover up a few areas where the finish had worn off. I wouldn't recommend this method for a priceless antique, but for a $2 thrifted table? You betcha!

I didn't buy a Lear Jet or a vulgar gold-plated apartment in the sky.
Now your turn. What frugal things have you been up to?
Katy Wolk-Stanley
"Use it up, wear it out, make it do or do without."