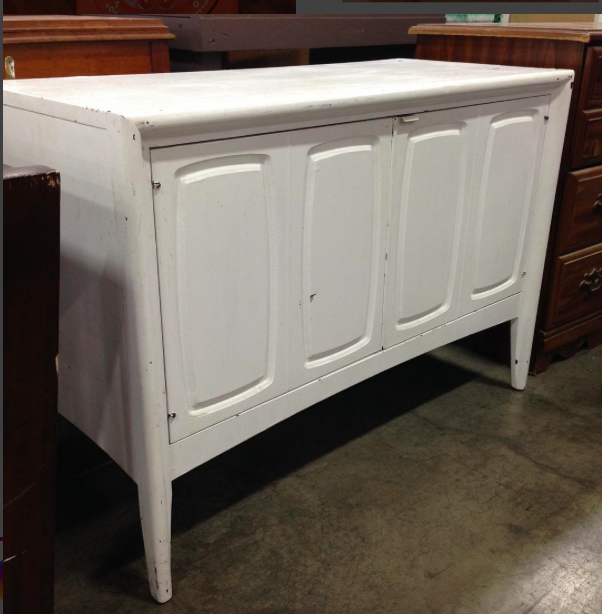 I took my sons to see a movie on Tuesday night at the locally owned Academy Theater. Why Tuesday? They run a weekly 2-for-1 special. Sadly, that doesn't work for odd-numbered groups, although I can hardly complain about the $8 total cost. We saw the Japanese animated movie Your Name, which had a very unique and moving plot. I chose a viewing that was subtitled instead of dubbed as I want to make sure that my sons don't forget the Japanese that they studied throughout their entire public school career.

My mother and I went thrifting to her favorite Goodwill Outlet yesterday as I was A: in her neighborhood, B: she was getting itchy for some deals; and I guess C: she wanted in on the fun. I spent $15 on a quality midcentury cupboard as a project piece, as well as a number of things to sell.

I was tempted to get takeout for dinner, but instead I rifled through the fridge and freezer for a meal. I boiled up pierogi, assembled bean and cheese quesadillas and cut up a cantaloupe. I need to clean out and organize the fridge, as it's crammed with random stuff from my husband's work party, plus leftovers from 4th of July and my sister's stay. It's chock full, but I know there's inedible stuff in there that makes it hard to find the actual tasty treats. Disorganization leads to food waste.

I visited my friend who just had her baby, and brought hydrangeas and a platter of homemade pumpkin cake, I sold another eBay item, I renewed my Craigslist listings, I hung laundry on the clothesline, I wore 100% thrifted clothing, I accepted a can of seltzer from my mother and I returned books to the library,

I don't buy a Lear Jet or a Предательская позолоченная квартира в аки.
Now your turn. What frugal things have you been up to?
Katy Wolk-Stanley
"Use it up, wear it out, make it do or do without."