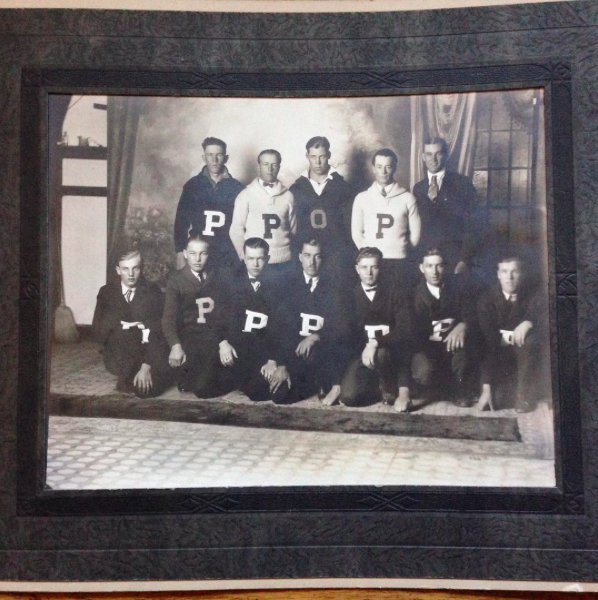 I met up with my new friend Sarah for a morning of thrifting at the Goodwill Outlet. We enjoyed wonderful conversation and our shared love of thrifting. Here's what I bought:
A Hartstone brand mug that matches the ones I use at home. I'm ridiculously obsessed with these mugs which are the perfect size and thickness. Many of them of kind of ugly, but I'm a fan of form over function when it comes to my hot caffeinated beverages. This one wasn't so ugly.

a Pyrex measuring cup. I've been keeping an eye out for a four cup size for awhile, and this one looked almost new.

A $2 bent wood stool in the same finish as my husband's armchair. We'd been borrowing the exact one from my son's room as a spot to set a coffee mug, so I'd been keeping an eye out for an extra. The top was sort of gummy, but it cleaned up quite nicely. This should solve the problem where I pass by my husband's chair and invariably kick over this coffee.

A booklet about "Agates of the Oregon Coast" for my geology obsessed sister. A vintage booklet about how to make potholders for the same sister, as the graphics were to die for. Plus . . .  potholders! Both are now packaged up and ready to be taken to the post office.

An official Chivas soccer jersey to sell on eBay.

A Bodum glass coffee press. I'll sell this as well.

A wonderful antique 8 X 10 photo of high school or young collegiate athletes. I'll likely list this on eBay after giving it a spot of research and then fawning over these likely long gone handsome fellas.

Two blank books.

One reusable nylon shopping bag that folds up into its own pouch. Perfect for keeping in the glove compartment of the car.

I probably bought something else, but I need to clean myself up so I can visit with my friend who just had a baby.
Total cost?
A little more than $10! Considering that those mugs alone sell for $20 apiece, I made some major scores.
Now, off to snuggle a baby!
Katy Wolk-Stanley
"Use it up, wear it out, make it do or do without."