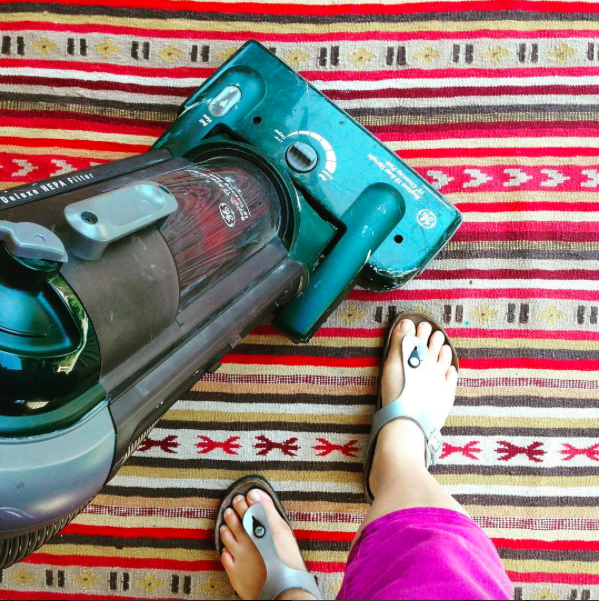 I was running on fumes in my Prius, so I drove across town for some of that cheap Costco gasoline action. I somehow convinced my 19-year-old son to accompany me on this adventure, probably assisted by a promise to feed him. His reward was an enormous $1.99 slice of Costco's everything pizza and a bonus trip to nearby Ikea where the two of us enjoyed steaming mugs of their free coffee. I'm obsessive about combining errands while driving, so I'd tucked a big bag of CFL light bulbs and spent batteries into the car to drop into the recycling bins at Ikea. I would've been more than happy to include a stop into the close by Goodwill Outlet, but that idea was nixed by my bin-adverse son.

I vacuumed up my curbside wool rug to remove the 7.2 pounds of dog hair that likely deterred other garbage pickers. I then measured it, photographed it and promptly listed it on Craigslist. My reward was $80, which will go towards looming fall tuition payments and apartment deposits for my two university students. I also sold three small wool rugs and a Pottery Barn kilim pillow that I'd picked up at the Goodwill Outlet. People found items they were looking for, I saved items from going to the landfill and I even made a few bucks for my efforts. Win-win-win!

I drove past a house that had recently been hyper-remodeled to sell, and noticed that there was a large roll of what looked to be brand new wall-to-wall carpet out for free. I stopped by later with my husband and confirmed that yes, both the carpet and under carpet were indeed new. We surmised that the remodeling company had installed carpet, which the new owners then promptly ripped out. You can guess what happened next. Yup, it's now up on Craigslist ready for a new owner.

I mailed out two eBay packages utilizing my dwindling stash of used manilla envelopes, I set out my recycling and yard debris bins which is a service I share with my next-door neighbors, (saving us both $89 per year) I found three pennies on the ground, I hung multiple loads of laundry on my clothesline, I put together a few new eBay listings and I turned off everybody's window air conditioner units that had been running almost constantly since last week's 105° temperatures. I fear our next electric bill.

I didn't buy a Lear Jet or a vulgar gold-plated apartment in the sky.
Now your turn. What frugal things have you been up to?
Katy Wolk-Stanley
"Use it up, wear it out, make it do or do without."