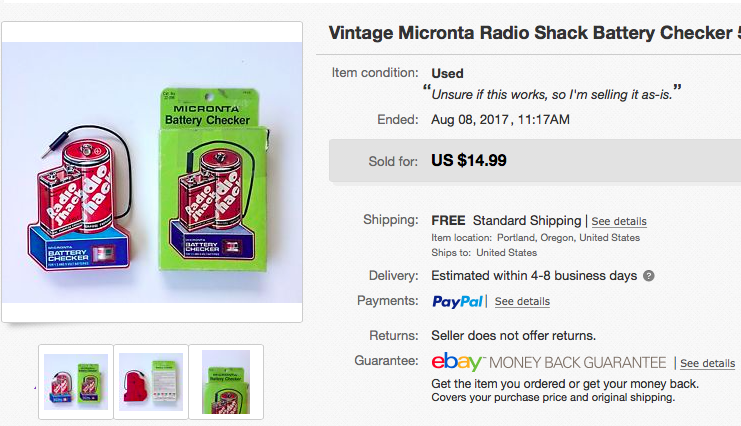 I worked yesterday and of course I packed in my own leftovers and enjoyed the free crappy coffee and the free delicious tea. (A 12-1/2 hour shift requires a lot of food and caffeine.) I then came home to greet an overnight house guest. I would have loved to splurge on a takeout or restaurant meal, but my husband had prepped a meal that kept our finances in check.
I sold a thrifted designer suitcase and then a thrifted designer backpack on Craigslist, as well as a cute vintage battery checker on eBay. Shopping at Goodwill is a profitable endeavor for me.
We took a day trip to a nearby rural area and splurged on farm stand fruit for the freezer. We brought binoculars and enjoyed a bit of bird watching. And by "we" I mean "I," as no one else could be convinced to even consider this to be an enjoyable activity. We discovered a free sandy beach, which we'll likely return to at a later date.
I refreshed my Craigslist listings, I hung laundry on the clothesline, I wore 100% thrifted/curb picked clothing, I accepted my less than perfect, off-trend house, ("Horror of all horrors, is that 1990's Formica in your kitchen?") I assembled a couple of Franken-boxes for my eBay shipping and I bought zero souvenirs while enjoying vacation day trips.
I didn't buy a Lear Jet or a vulgar gold-plated apartment in the sky.
Now your turn. What frugal things have you been up to?
Katy Wolk-Stanley
"Use it up, wear it out, make it do or do without."