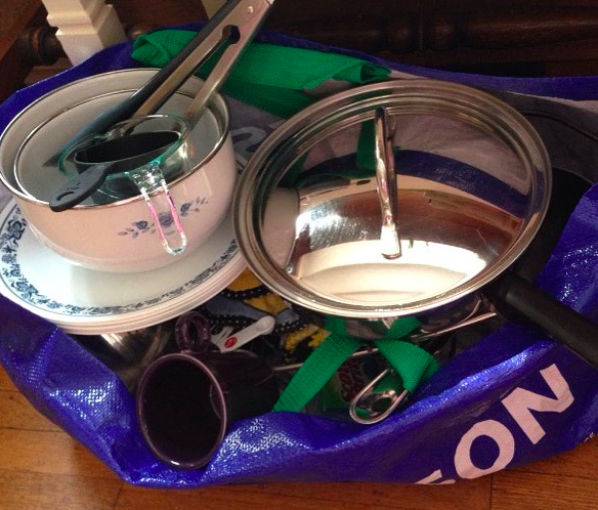 It's been very smoky here in Portland due to multiple forest fires which are burning out of control in the Columbia gorge. I have asthma, so I'm being deliberate about taking it easy and limiting time outside of the house. Not a lot of spending opportunities inside my house!

I assembled a burrito bar using ingredients I had on hand including the last of a bag of potatoes that's been cluttering up my counter for way too long. Everything was delicious and we even have leftovers, which frankly, is my favorite meal in the first place!

I gave my white towels a soak in my favorite Dollar Tree Oxyclean, which helps to keep them bright and stain free. I bought six towels at Costco in 2010 and have no plans to replace them in the near future. (I remember the date because we had a cute little Japanese exchange student and I became suddenly aware of how stained and scrappy our towels had become.) Yes, the bindings are a bit scraggly, but I simply snip those parts off and get on with my day. I recently came across an advertisement for a towel subscription service that will send you replacement towels every "6, 12 or 24 months." I consider this to be the height of wastefulness especially since this company writes that "10 million tons of textile waste end up in landfills each year. We have created a circular subscription program that is both earth and people friendly to close the loop and change the way we consume." Encouraging the American consumer to think that it's normal to replace towels every "6, 12 or 24 months" is nothing even close to "earth friendly." You know what I did with my scrappy old towels? They got demoted and now serve to wipe up disgusting and truly filthy items. Surprisingly often.

I know this is getting repetitive, but I did go to the Goodwill Outlet to source apartment supplies for my sons' off campus apartments. (As you can see, these little of this, little of that trips are starting to pay off!) There is a gross over manufacture of consumer goods on this planet, which is why I choose to buy used whenever possible.
I paid $40 and bought:
Five Corelle plates, which should be easy to add to since they're always the same size.

A measuring cup and a Pyrex measuring cup.

A mug.

A rubber spatula and kitchen tongs.

A stainless steel frying pan with lid.

Two nesting mixing bowls.

I bought a vintage rotary phone, mug, a large antique stoneware crock, a cloth diaper cover and a small flying drone to sell. I also picked up a pair of adorable socks for myself. (The crock was HEAVY but gorgeous, so I thought I'd take a gamble on it. It was painted with a horrible landscape, which easily washed off.)
     5. I didn't buy a Lear Jet or a vulgar gold-plated apartment in the      sky.
Now your turn. What frugal things have you been up to?
Katy Wolk-Stanley
"Use it up, wear it out, make it do or do without."