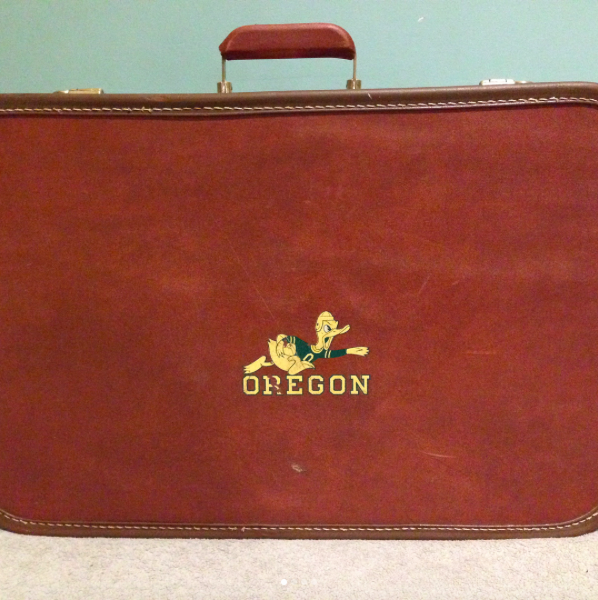 My husband and I drove to the Ikea restaurant for lunch, as I had a buy-one-get-one-free Chinook Book coupon. The two of us indulged in salmon plates for an out of pocket total of $6.99! (There's no tipping.) We also enjoyed steaming hot cups of joe, as coffee and tea are free with an Ikea Family card. We then walked downstairs where I redeemed a coupon for a free Frakta bag. By the way, those Flürben Fnöpprüft Frakta bags are perfect for transporting bedding and other soft gear when moving kids into their dorms. Cannot stress this enough! Of course, I found a penny on the ground. We then zipped over to nearby Costco where we topped off the Prius with cheap gasoline.

I'm selling a pair of sunglasses that I picked up from an Ashland free pile. I also listed a thrifted vintage suitcase on Facebook Marketplace and a couple items on eBay last night. I'd changed my mind about converting a big stereo speaker into my son's bedside table, and convinced my husband to help me haul it to the curb as it weighed an actual metric ton. It was still out there flapping its "free" sign when we went to bed, but was blissfully absent by morning.

I wrote up and submitted another Clark Howard article, which felt good as I found it hard to focus this summer with the kids around. Getting back to paid writing will help to pay our mortgage, the additional rent on two apartments, as well as making sure we have enough money socked away for the next tuition payments come January. Of course, I'll also be working my shifts as a labor and delivery nurse.

My husband and I have plans to take in a movie tonight at a local second run theater that features 2-for-1 Tuesday night admission. When tickets are two bucks apiece I'm not so picky about what film I'll be seeing. Car chase dum-dum movie? Whatever.

I didn't buy a Lear Jet or a vulgar gold-plated apartment in the sky.
Now your turn. What frugal things have you been up to?
Katy Wolk-Stanley
"Use it up, wear it out, make it do or do without."