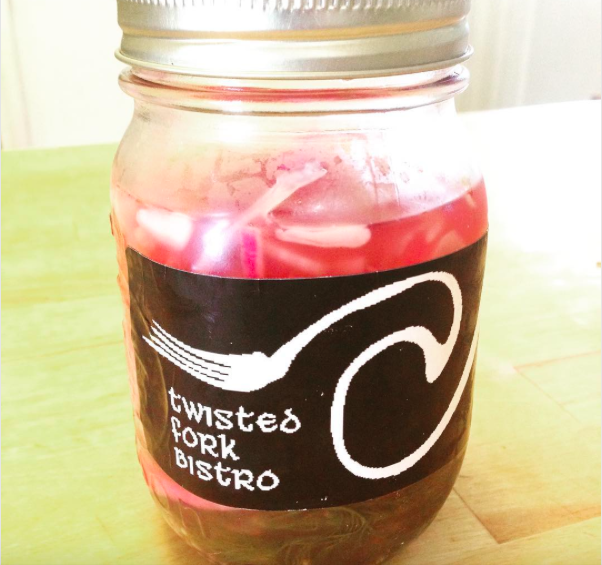 My husband recently enjoyed a rather delectable bagel with lox, garnished with thinly sliced pickled red onion. This reminded me that I'd refrigerated a jar of leftover pickle juice from some "Hot Dilly Green Beans" that my husband gifted me from the Twisted Fork Bistro. (My husband knows me well enough to know that my favorite gifts are consumable.) I thinly sliced my own red onion and left them to marinate in the chilled brine. They've been sitting in the fridge for a few days now, and we're enjoying the freshly pickled onion with our home cooked meals. Frugal deliciousness!

I plucked a couple of midcentury style sunburst clocks from a free box and immediately listed them for sale on Facebook Marketplace. I quickly got a ton of interest on one of them and have someone coming over to buy it today. The time it took to put the ads together was less than five minutes. Free money, people! We just paid out to situate our sons in their apartments, as well as their university tuition and fees for the fall quarter. So building our pile of money back up again is a priority. Like winter, January is coming.

I worked yesterday, and although I did buy my lunch in the hospital cafeteria, I drank the free crappy coffee instead of spending any money. Actually, I drank four cups of crappy coffee through my 13-hour shift as I was floated to another unit whose coffee is marginally less crappy. I work again tomorrow and will make sure to pack enough food to get me through the day. After all, I'm there to make money, not spend it.

My husband and I took the afternoon to drive up to Mount St. Helens as the day was bright and clear and neither of us had anything pressing on our schedule. We'd been wanting to do this all summer, but work schedules, forest fires and cloudy weather kept conspiring against us. We picked up cheap bahn mi sandwiches for the trip and filled our water bottles. I made sure to grab our binoculars, as well as our downloaded Game of Thrones audiobook. The weather was perfect and although we did pay $16 to the U.S. Forest Service to explore the Johnston Ridge Observatory, it was money well spent. Although we were both increasingly hungry over the 2-hour drive home, we held out and fixed food from the refrigerator.

I didn't buy a Lear Jet or a vulgar gold-plated apartment in the sky.
Now your turn. What frugal things have you been up to?
Katy Wolk-Stanley
"Use it up, wear it out, make it do or do without."