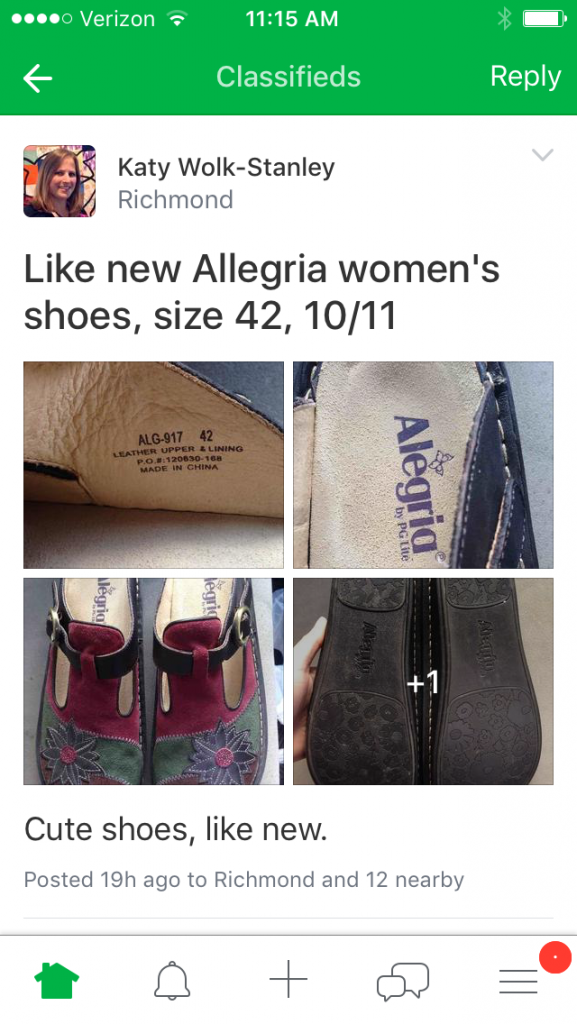 My mother and I drove a couple hours to attend my cousin's housewarming party, and unsurprisingly we were unable to resist a spot of thrifting. I spent $1.99 to replace the exact travel mug that went missing from work a few years ago. I then bought a new looking pair of Allegria shoes which already have a number of interested buyers. (I expect to sell them through the NextDoor app by the end of the day.) My mother offered to fill my dangerously empty gas tank as a thank you for driving, which only set her back $14, as I'd earned a 70¢-per-gallon discount through Safeway. Thanks, mom! Thanks, Safeway!

I sold a vintage telephone through Craigslist and a set of curtains through eBay. I also worked on Friday and I re-upped all my Craigslist and Facebook Marketplace listings.

I'm transforming leftover pot roast broth into French onion soup, I ate leftovers for last night's dinner, I put out a free box of drinking glasses and clothing, I watched an episode of Bargain Hunt on youtube and I'm wearing my thrifted $5 Ibex hoodie.

The weather has taken a turn towards chilly autumn weather, which is attempting to seep into my summer warmed body. However, I'm simply adding layers instead of turning on the furnace in our 114-year-old house. Old houses are so wonderful with their craftsman details and unique character. However, they weren't exactly constructed to modern day standards. What is this thing you call "insulation?" Tea, layers and lap throws will take the edge off a house with a high of 63°. Right?

I didn't buy a Lear Jet or vulgar gold-plated apartment in the sky.
Now your turn. What frugal things have you been up to?
Katy Wolk-Stanley
"Use it up, wear it out, make it do or do without."