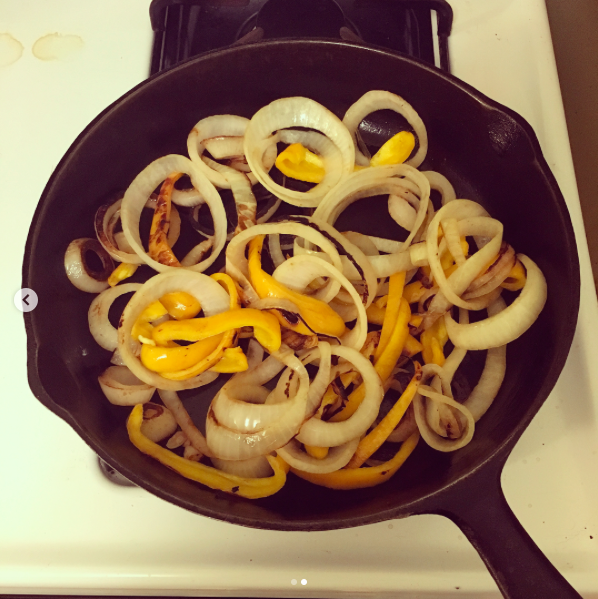 My friend Lise and I went to check out a new salvage shop, a store now deemed to be "where scratched up Teflon pans go to die." It was yuuuge, so I had high hopes, but there wasn't even a single item that caught my eye. Afterwards we checked in on her father's apartment so she could bring in his mail and borrow a suitcase. I tore a Halloween candy coupon from his junk mail that I can double at Safeway. We treated ourselves to lunch afterwards at a locally owned restaurant.

My friend was about to dump some wrinkly peppers into her compost, but I swooped in to save them. I've since sautéed her yellow pepper with an onion to top refried beans and stashed the rest in the refrigerator.

I thrifted a new garbage can for our bathroom and then sold our old one, I sold my thrifted Bob Mackie scarf, I sold a big bag of vintage handmade Barbie doll clothes and I'm arranging sales of a few other items. I also worked two days and jumped through a couple of annoying RN competency hoops that allow me to keep my job. The amount of continuing education that RNs are required to do is no small task. I'll attend a mandatory class about how to self-edit my time card in a few days. (Don't be jealous of my glamorous life of used garbage cans and time card inservices!)

I got rid of a few random kitchen tools, some dress pants, a sweater and a blouse through my local Buy Nothing group, I bought a like-new board game and a vintage shoe polisher to resell, I mostly puttered around the house, (doing nothing is very cheap) I listened to free Dave Ramsey podcasts during a long dull drive and I've yet to turn on the furnace despite chilly weather. (Layers, people. Layers!)

I didn't buy a Lear Jet or a vulgar gold-plated apartment in the sky.
Now your turn. What frugal things have you been up to?
Katy Wolk-Stanley
"Use it up, wear it out, make it do or do without."